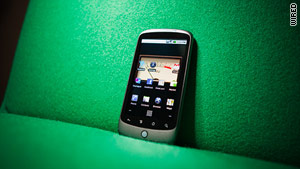 STORY HIGHLIGHTS
Four months after its release, Google's support for Nexus One phone seems to be waning

Phone has sold 135,000 units in same time Droid and iPhone sold over 1 million

Analyst says outing still not a failure, taught Google about marketing

Google says plan has always been for Nexus One to be first of many phones
(Wired) -- Barely four months after the launch of its first smartphone, the HTC-built Nexus One, Google's commitment to the device seems to be on the wane.
Google is now pointing customers interested in buying a Verizon version of the Nexus One to the newly launched HTC Droid Incredible phone. The Incredible, which has garnered rave reviews, is on par with the Nexus One in terms of processing power and its vivid OLED display, but packs a more powerful camera.
Google has also said that it is no longer working on "further engineering improvements" to the 3G reception on its Nexus. Some people are taking that as a sign that the search company might not be in the handset business for the long haul.
In Silicon Valley, Nexus Ones are remarkably easy to get hold of, thanks to a generous developer program, liberal press review program and other handouts. Google is literally giving them away, which is never a sign of a hot product.
Indeed,Nexus One sales are barely a blip on the market-share charts. Google sold only 135,000 units in its first 74 days, compared to 1 million iPhones and 1.05 million Droids in those phones' first 74 days.
But that doesn't mean the Nexus One is a failure: Far from it. In fact, it's a sort of inspired experiment, a laboratory for Google to get a taste of the mobile-handset business, up close and personal. For instance, who could have realized the extent to which the lack of a telephone support line would make Google-loving customers unhappy?
The Nexus One gives Google direct-sales experience and customer contact that they don't get as the developer of the Android OS, which is used on many phones from other manufacturers.
Indeed, competing with those manufacturers may be the last thing Google wants.
"It wasn't about Google becoming a phone company," wrote telecom analyst Jack Gold in a recent e-mail newsletter. "It was about Google getting a significant number of devices out there to form a big 'reference platform' testing/pilot environment where they could model, test and tune their ecosystem based on the real-life use of the early adopters who would buy NexusOne."
When we asked Google for a comment, a company spokesperson said, "We've said from the beginning that Nexus One is the first of many Google-branded Android handsets. Today's announcement (steering Nexus One customers to the HTC Incredible on Verizon) doesn't mean any change on that front."
Google may not be saying much, but here's our takeaway on the lessons Google has learned -- or should have learned -- from the Nexus One.
1. You can't sell phones like computers.
At first, Google's strategy to offer a phone just through its website, bypassing traditional wireless-carrier stores, may have seemed innovative and clever. After all, consumers buy almost all their major electronics products online, including computers, storage devices, digital media players and even TVs.
But when it comes to cellphones, users want to touch and play with the product. And they want in-store customer support for these devices.
"Fundamentally, Google's contention that mobile phones will increasingly be purchased more like other consumer electronics -- online and without subsidy -- has so far been proven wrong, or at least premature," said Charles Golvin, an analyst with Forrester Research.
"Very few U.S. consumers will spend $500 for a phone, and even fewer will do so without at least the opportunity to paw the hardware, even if they eventually buy online," said Colvin.
Even those who purchased the device through Google's online store faced problems. Nexus One was plagued by consumer complaints, including spotty 3G connectivity, a high early termination fee and poor customer support from Google. Weeks after the device's launch, Google finally introduced a phone support line. Until then, customers with problems could only e-mail Google and had to wait for hours for a response.
"Google's technical support for the device has been derided both online and in the media, deservedly," said Golvin." In the intensely competitive world of mobile handsets, that just doesn't cut it.
2. Marketing matters.
All those iPhone and Droid commercials on TV may seem like ego trips for Apple and Motorola. But marketing plays a big role in phone sales. Smartphones are not just for gadget-heads, so if handset makers want to reach an audience beyond the early adopters, they have to advertise and sell their product through traditional media channels.
Google didn't capitalize on the initial buzz around the first "Googlephone." The company never ran a focused marketing campaign that would try to impress on potential customers why the Nexus One was worth considering.
The result has been that few potential customers have had a chance to hear why the phone may be special.
Google also limited itself by offering the device only on T-Mobile. Last month, it extended it to AT&T, but AT&T customers will not get a subsidy on the device and will have to pay the full price -- $530 -- for the unlocked version of the phone.
3. In mobile phones, Google is a startup.
The search giant's web products draw in millions of users, which means even half-baked ideas like Google Wave get a full workout from people eager to try the company's latest new thing.
But in the world of consumer electronics, Google is a rookie, and the company will have to fight hard for its place. It has to build the retail relationships that companies such as Research In Motion and Motorola have created over the years.
While Apple can use its own retail stores to let customers play with the iPhone, Motorola's Droid is available at Best Buy. When it comes to selling mobile handsets, Google needs to find the right spot for its devices.
Google also has to build relationships with cellphone carriers. In the mobile world, carriers are extremely powerful, and for good reason: Without a good cellular data network, using even the most high-end phone becomes an exercise in frustration. A typical consumer's choice between a Nexus One and a Droid may come down to which carrier offers it. Google needs to craft its retail strategy with that in mind.
4. The mobile phone ecosystem is complex.
With Android, Google is trying to do with mobile phones what Microsoft did with Windows on PCs. Instead of having a proprietary operating system tied to hardware made by the same company, Google wants to separate the two.
Handset makers such as Motorola and HTC are buying into the strategy. But to help them give up their older operating systems and use Android, Google needs to understand how phones are designed, developed, priced and sold.
It also needs to understand how customers use these products and the challenges they face. Listening to its hardware partners talk about this with PowerPoint presentations is one way. Getting your hands dirty to do it yourself, is another, and that's what Google did with Nexus One.
"At 200K to 300K or so devices deployed, think of all the feedback they can get on real world operations and user requirements," said Gold. "It's a massive number of test subjects."
With Nexus One customers, Google not only gets to test and tune the device's OS, but also the app store and delivery ecosystem, he said.
It gives Google the kind of insight that the company could use to create the next versions of the Android OS.
"If you call this type of an advanced ability to garner real-world customer data and hone your ecosystem a flop, then so be it," said Gold. "I see it as a pretty positive effort on Google's part. If Google never makes a dime in the hardware market with its own Android-based products, it will still be a success."
5. Earning developer goodwill is the key.
The success of Apple's app store has spurred rivals to launch their own versions. But with the exception of Android, few other app stores -- including the BlackBerry World and the Palm app store -- have come close to becoming a viable competitor to iPhone's App Store.
One reason is that Google has been generous with seeding the developer community with the Nexus One. A significant portion of the Nexus One sales went to programmers, and that's not by accident. Google has also been handing them out.
"Google got these devices into the hands of early adopters who are generally unlikely to be silent about any issues they may uncover," said Gold. "These are the kinds of debuggers you want working with your device in the early stages and giving you lots of feedback."
Having its own Android device helped Google take control of this feedback without having to rely on the HTCs and the Motorolas of the world to do it.
For Google the handset experiment isn't over. Andy Rubin, Google's vice president of engineering and Android czar, has said that the company plans to come out with a series of Google phones.
Make no mistake, there will be another Google handset. But it will not likely repeat the mistakes of the Nexus One, and future Googlephones phones will get better.
Just don't expect a stunning blockbuster phone from Google, because Google understands it's not in the business of just selling a phone.
Wired's Dylan Tweney contributed to the reporting on this story.
Subscribe to WIRED magazine for less than $1 an issue and get a FREE GIFT! Click here!
Copyright 2011 Wired.com.
FOLLOW THIS TOPIC