'Flying' boat hopes to circle globe in 40 days
STORY HIGHLIGHTS
Skipper of the world's fastest sailing boat will attempt to cross the world in 40 days
Boat, "Hydroptere," uses foils to lift it out of the water and fly at high speeds
"Hydroptere" is currently the fastest boat in the world
Bigger boat "Hydroptere Maxi" being built for circumnavigation attempt
London, England (CNN) -- The captain of a huge "flying" boat that has smashed world records for speed on water now plans to sail around the world in under 40 days.
Frenchman Alain Thebault, skipper of "Hydroptere," a revolutionary sailing boat that looks more like a plane, says his next project is to circumnavigate the globe in half the time of the Jules Verne novel "Around the World in 80 Days."
"My dream is to cross the world in 40 days," Thebault told CNN. "It is a project that is very close to my heart and that I believe in."
"Hydroptere," currently the world's fastest sailing boat, gets its speed from foils, or underwater "wings" that lift the boat and enable it to "fly" several meters above the water.

Video: Boats inspired by planes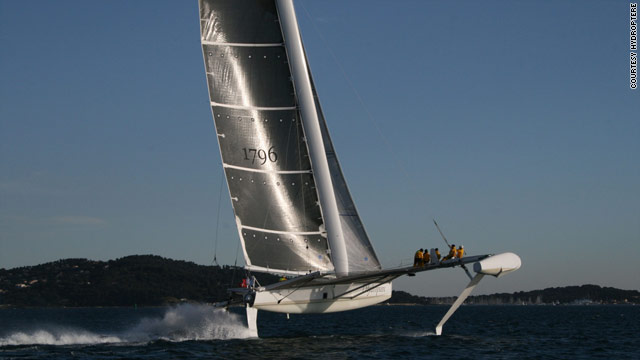 Gallery: Hydroptere
This innovation, which uses principles similar to those of airplanes, avoids drag and allows the 18- by 24-meter boat to achieve previously unimaginable speeds.
Inventor Thebault started working on the design for "Hydroptere" nearly 25 years ago.
"Many years ago when I said I wanted to make a boat fly people said I was crazy," he told CNN.
Thebault is aware of the dangers of his chosen sport.
In 2008, "Hydroptere" reached extreme speeds of over 60 knots per hour (about 111 km per hour, or almost 70 mph) before dramatically crashing.
"When you sail at very high speeds, around 100 km/hour, the water becomes like a rock," he said. "So yes, it is dangerous.Sailing at very high speeds is similar to high altitude for alpinists -- up there, you have to spend the least time possible."
When I said I wanted to make a boat fly people said I was crazy.
--Alain Thebalt
Thebault and his team rebuilt "Hydroptere" and in late 2009 it became the fastest boat on the planet, traveling at over 50 knots (over 100 km/h) over 500 meters and one nautical mile.
Thebault is currently building a larger version of the boat, "Hydroptere Maxi," to make his attempt at crossing the world in under 40 days.
At 30 by 30 meters, Thebault hopes that "Maxi" will react better in heavy seas and be able to accommodate a group of 10 sailors. He expects "Maxi" to be sea-ready in 2013.
He likened his previous records and the round-the-world attempt to the difference between a 100-meter sprint and running a marathon: "They are completely different, but we want both."
But before all that, the maverick sailor, who admits this project is both his profession and obsession, has another goal: He will attempt to cross the Pacific in three days in 2011.