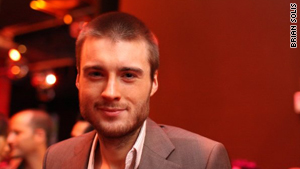 Mashable's Pete Cashmore says Digg can rise again if it helps us tackle "information overload."
STORY HIGHLIGHTS
Mashable's Pete Cashmore: Digg could make a comeback on the Web

Digg announces it will give users home pages, similar to those on Facebook or Twitter

Those pages may give Digg some of its authority and appeal back, Cashmore says

Editor's note: Pete Cashmore is founder and CEO of Mashable, a popular blog about social media. He writes a weekly column about social networking and technology for CNN.com.
London, England (CNN) -- Social voting site Digg this week unveiled plans to become a hub for sharing links on the Web. If your friends are sharing media on Facebook, Twitter and other sites, Digg wants to provide a personalized home page that filters the Web based on your friends' activities. These new features will be previewed in the coming weeks.
Could it work? Might Digg help define the future of news?
Facebook, Twitter ... Digg?
If you're sharing links on the Web today, chances are you're doing it on one of two sites: Facebook or Twitter. That's a problem for Digg, which allows users to vote on news stories, pictures and videos. Digg pioneered social sharing, but these activities have moved to other venues in recent years.
But the Twitter and Facebook trend also provides an opportunity for Digg: While Twitter and Facebook are utilized to share links, ranking news stories is the core focus of neither. The site's new plan is to analyze the news stories, videos and images shared by your friends on these sites and rank them by relevance.
One-hit wonders
Getting "Dugg" was once the dream of Web publishers. When a news article gained enough votes to hit the Digg home page, tens of thousands of visitors could bombard your Web site in a matter of hours.
Publishers, however, realized this system was a lottery of sorts: Littering your Web site with "Digg this!" buttons in the faint hope of hitting Digg's home page proved far less effective than encouraging readers to share links with small groups of friends on Twitter and Facebook.
On Digg, submitted stories are either hit or miss. On social networks, however, every share drives more interest. Digg hopes to rectify the situation by offering personalized home pages for every user, making the site more relevant to individuals and referring more reliable streams of traffic to publishers.
The rise of the curation economy
"Content curation" is a major Web trend for 2010. People are creating stories, photos and other "content" at a rate that is outpacing our ability to consume it. Information overload has become an increasingly common complaint, I wrote in December 2009.
The problem is growing. In May 2009, YouTube announced that 20 hours of video content was being uploaded every minute. This week, the video sharing giant revised that statistic to 24 hours per minute. Last month, Twitter announced that users are producing 50 million Tweets per day, up from 35 million per day in 2009. Facebook, meanwhile, reports that users are posting 60 million status updates per day -- in October 2009, that number stood at 45 million per day.
With this content tsunami growing faster than our ability to consume it, Digg seems perfectly positioned to solve the content consumption crisis.
Digg's vision: curated consumption
Once the clear leader in curation, Digg has become a niche community of technology enthusiasts. By aggregating activity on other social sites, it hopes once again to become the leader in social news. With content overload reaching new heights, its timing could be fortuitous.
Digg's challenge: Prove that it can cut through the content mountain, rather than contribute to it.
© 2013 MASHABLE.com. All rights reserved.