Couture superyacht brings high fashion to the high seas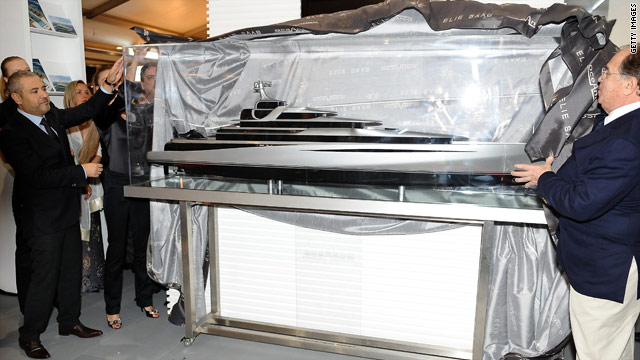 STORY HIGHLIGHTS
Lebanese couturier-to-the-stars Elie Saab has ventured into superyacht design
Saab unveiled the first of three designs at the Abu Dhabi Yacht Show
The superyacht will include a submarine, helicopter, movie theater and swimming pool
Saab on his design: "Both haute couture and superyachts are distinctive examples of luxury"
London, England (CNN) -- The world's most fashionable women may finally have the perfect place to show off their designer dresses: A haute couture superyacht.
Couturier Elie Saab, whose clientele includes actresses Angelina Jolie and Gwyneth Paltrow, recently unveiled his design for a 117-meter superyacht.
Designing red carpet dresses and high-tech superyachts might not seem the most natural bedfellows, but the Lebanese designer believes this latest venture is a natural extension of his fashion empire.
"I always sought to represent my vision of modernity and elegance beyond the conventional limits of fashion," Saab told CNN.
"Both haute couture and superyachts are distinctive examples of luxury. The project of a yacht is already a luxury.
"Adding a designer's vision to the creation is the ultimate luxury," he said of the design which was launched at last month's Abu Dhabi yacht show.
The yacht's future owners will want for nothing aboard their floating extravaganza, which is yet to be built. The yacht, named "ES117," will include 12 suites, a swimming pool, movie theater, helicopter, submarine, spa and gym.
Donald Potard of Weyves Couture, who partnered with Saab on the yacht's design, said the yacht is envisioned for owners who "wish to go beyond the conventional sense of luxury."
"The future owner of 'ES117' will not [only] acquire a majestic superyacht but a piece of art," Saab explained. Both haute couture and superyachts are "the ultimate experience of luxury," he told CNN.
Saab would not comment however, on the cost of building the vessel and said only that several potential buyers have already been lined up. Ship builders Oceanco have been chosen to build the yacht.