Sony unveils Move, its PS3 motion controller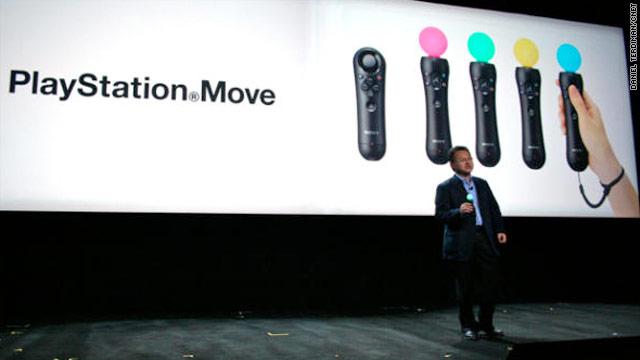 STORY HIGHLIGHTS
Move is small device that looks like a microphone

Starter kit begins at under $100 for a Move, a PlayStation eye camera and a game

Sony president calls Move games "amazingly diverse"
San Francisco, California (CNET) -- On Wednesday, Sony unveiled Move, its motion-sensitive controller.
A small device that looks like a microphone -- but with something on top of it that looks like a ping pong ball with an LED inside -- Move is Sony's bid to gain control over the motion controller wars that are currently led by Nintendo, with its Wii controller, and which many think will be dominated by Microsoft and its Project Natal controller system.
To Sony, releasing the Move is an obvious move for the PlayStation, given it believes it started the motion controller era with its Eye Toy. Sony held its press conference during the Game Developers Conference here.
Now, the Move, which will be available this fall in a starter kit that begins at under $100 for a Move, a PlayStation eye camera and a game, is its attempt to jump ahead of Microsoft's Natal and to begin winning over Wii users.
"We like to think that the migration path between Wii households and PlayStation households is a natural path," said Peter Dille, Sony's senior vice president for marketing and PlayStation.
Shuehei Yoshida, Sony's president for worldwide studios, said Move will "demonstrate that the motion controller for PS3 will be the solution for both casual and hard-core gamers alike" and that the types of games Sony can create with it are "amazingly diverse."
Among the types of games Move will work with include those that involve swords, bows and arrows, guns, punching and much more. The idea is that Move will provide players with a realistic and precise feeling of holding whatever kind of thing the game calls for, be it a sword or a gun.
Sony first talked about its new motion controller at E3 last year but didn't have a name or any kind of timing. Now, by unveiling the device's name it can begin what Dille said will be the company's biggest video game marketing effort of the year.
While Sony is expecting consumers to use Move with a range of brand-new games, the company also clearly thinks that it will enhance game play in existing titles. As such, it showed off how Move can be used to move characters around in its hit title, Little Big Planet.
Further, the controller comes with its own accessory, known as a sub-controller, which will accentuate what's possible with Move. And later this year, the forthcoming game SOCOM 4 will incorporate both Move and the sub-controller.
© 2010 CBS Interactive Inc. All rights reserved. CNET, CNET.com and the CNET logo are registered trademarks of CBS Interactive Inc. Used by permission.