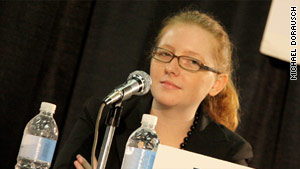 Online-reputation expert Rhea Drysdale believes Tiger Woods can take steps to rebuild his Web image.
STORY HIGHLIGHTS
Tiger Woods needs to create a strategy for rebuilding his online reputation

A search for "Tiger Woods" on Google pulls up mostly negative results on first page

Online management expert Rhea Drysdale suggests six steps Woods can take

Drysdale: Woods needs to start interacting with fans through Twitter, Facebook

Editor's Note: Rhea Drysdale is COO and Co-Founder of Outspoken Media, an Internet marketing company that specializes in SEO and online reputation management.
(CNN) -- If Tiger Woods was hoping his public apology last month would help restore his damaged reputation, he may be disappointed.
I typed "Tiger Woods" into Google's search field last week and at least three-fourths of the first page of results were negative -- the most damning of which was The Onion's spoof article, "Tiger Woods Announces Return to Sex."
More interesting still, five of those first-page results were published within the last week. Google is placing an incredible amount of value on fresh content.
Even with a team of reputation managers working full-time to push positive mentions above the negative ones in those search results, it still could take years for Tiger's personal brand to rebound.
Google search results for Woods are in constant flux, thanks to an algorithm that favors recent results and a real-time search feature which incorporates newly posted news articles as well as updates from Facebook and Twitter. This gives the golfer and wayward husband a unique reputation problem compared to those who receive less media coverage.
"Search for 'Tiger Woods' throughout the day and you will see different results nearly every time," said Todd Friesen, VP of Search at Position Technologies, a search-engine marketing firm. "Compare that to a plastic surgeon trying to recover from a malpractice lawsuit five years ago. There may be no news or blog coverage."
When faced with an ever-changing search-engine results page (SERP), reputation managers must fight back by getting fresh, positive news for their clients, Friesen said.
So what should Tiger do? He needs to create a strategy for rebuilding his online reputation. Here are six steps he can take:
1. Be more accessible
Whether Tiger works with an outside team or not, he is going to need to be more accessible, sincere and proactive. Entering rehab was a step in the right direction since there are signs that he may have a sex addiction. Now that he has started counseling, it is imperative that he makes himself more available to the press and his fans, if only to let them know he is learning from the process.
2. Create positive news mentions
Woods is taking steps to repair the damage done to himself and his relationships. That should come first, but as soon as he is ready he should speak out on reputable news outlets, such as "Larry King Live", "Oprah" or "Good Morning America." The more highly syndicated, the better. This will fill the search results with fresh, and more flattering news than last month's tightly controlled statement.
3. Utilize his Web site
The news section of TigerWoods.com is the only online property he owns that is being used to communicate his message. After the initial car accident last November, the Web site began publishing numerous accolades Tiger had received over the past decade. Since then there has only been an announcement of Woods' Feb. 19 press conference and a transcript of his statement.
Tiger should take a cue from Chris Anderson, the curator of TED, who recently apologized in style on his blog for remarks made during Sarah Silverman's provocative performance at the 2010 TED Conference.
4. Audit his social profiles
Before he does any interviews, the Tiger Woods team needs to review his online properties to ensure they own all relevant domains and usernames. They can register usernames with a service like KnowEm. Once registered, they should make sure each profile is customized and points to favorable search results like his Web site, his charitable foundation and other social profiles.
5. Get more social
It is impossible to maintain hundreds of social profiles, but Woods has barely maintained one. With his Twitter account abandoned since June after only three tweets and his Facebook page stagnating, it is apparent social media has never been a priority for Tiger.
Regardless of his desire to remain private about his personal life, there are legitimate uses for these channels. Woods may want to keep his life private, but there is a worldwide conversation happening around it on the Internet. Being an active participant in this conversation is as important as getting in front of the news.
Tiger can learn from others to help him use these accounts responsibly. After his arrest last year, singer Chris Brown used Twitter to reform his online reputation (although in December he deleted his account after a tirade about Wal-Mart not stocking his album).
Woods also could look to Britney Spears' team, who keep her followers informed of Britney-related news, events and the occasional tweet from Britney herself -- letting them know what she is doing (not her personal opinions on politics, religion or album sales). Twitter should be personal, but ultimately, about promoting Tiger's brand.

Video: Tiger Text

Video: Did Tiger's apology work?
These profiles can also rank high in search engines. When you search "Barack Obama" on Google, the president's Twitter profile ranks in the top 10 results along with his YouTube and MySpace pages. Embracing social media could push Tiger's profiles into the top 10 results, bumping negative results to the second page.
Three tweets are not going to cut it though. Tiger and his team will have to commit to daily social-media updates.
6. Monitor his brand
Tiger Woods should monitor his brand by using an enterprise-wide service like Radian 6 or Visible Technologies to measure public opinion over time. As he puts himself in front of news outlets, he needs to determine how he is being received. Is the public commending him for his honesty with advertisers and desire to return to golf, or are they critiquing his hug with his mom as staged?
If Tiger Woods can put himself on major news channels, deliver honest interviews and effectively use social media to discuss his next steps, he can rebuild his online reputation. Proactive reputation monitoring and management is a key to online success.