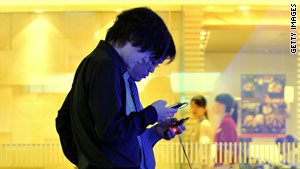 Can mobile TV be a big hit in the U.S. after limited success in tech-ed up South Korea?
STORY HIGHLIGHTS
Mobile TV service set to launch in the U.S.
South Korea has had mobile TV since 2005 but has not been commercial success
Phone makers LG and Samsung are leading players in hardware
More commercial nature of U.S. broadcasting leads many to believe it will be a success there
(CNN) -- It was a record-breaking performance that slowed taxi traffic across Seoul on Wednesday when figure-skating darling Kim Yu-na took to the ice in Vancouver at the Winter Olympic Games.
The South Korean capital's cab drivers have for days been glued to their dashboard mobile TV screens, following the nation's athletes at the Winter Olympics.
Since free terrestrial mobile TV, or t-DMB, was launched in South Korea in 2005, million of commuters on buses and subway trains have also watched game shows, sports, news and dramas on antenna-fitted cell phones with tilting screens or pocket-sized TV sets.
Broadcasters in the U.S. are hoping for a similar trend as they roll out the new mobile television standard ATSC-M/H. It will allow TV stations to put their live broadcasts on mobile devices with relatively little investment.
Yet in South Korea, terrestrial mobile TV has not lived up to its promise and while handset makers make money, broadcasters have yet to turn a profit.
Mobile TV is "not a failure but more of an ethnographic study" in a very mature mobile market, says Yunho Chung, the founder of the Seoul-based Veyond Partners media consultancy, who has been tracking the market for the past four-and-a-half years.
In penetration and geographic reach, mobile TV is more of a success, Chung told CNN. But it has been less successful economically, in part because the dominating terrestrial TV players didn't invest enough.
"They were not expecting something great," said Chung, adding it was seen as merely another platform for their usual channels in a country where broadcasting was traditionally regarded more as a public utility than a profit-making business.
In South Korea mobile TV is not a failure but more of an ethnographic study.
--Yunho Chung, media consultant
South Korea's government sees mobile TV as an investment. It put its research capability at the service of DMB and is now exporting the technology to countries interested in trying mobile TV -- recently striking deals with Vietnam and Cambodia.
"Going abroad is the only solution," said Chung.
The new American standard has a strong South Korean link, combining two systems developed by leading cell phone manufacturers Samsung and LG. The perennial rivals are now launching the first ATSC-M/H receivers in the U.S., getting a quick start in the hardware sales that are the cash cow of mobile TV.
South Koreans had bought 20 million handsets by the second quarter of 2009, double the number from the first quarter of 2008 and eleven times the number of handsets sold when mobile TV was first launched.
Without subscription fees, those numbers are the closest the country comes to counting its terrestrial users -- and as the price of mobile TV technology has dropped in recent years, the feature has become more standard in cell phones, making it more difficult to gauge actual viewership.
The Korea Communications Commission (KCC) in 2008 estimated it at 1.6 percent.
Advertisers shrugged, buying mobile airtime worth just $6.2 million in 2008, with prime-time-commute advertising costing about 20 times less than its traditional television equivalent.
Tight control by the Korea Broadcast Advertising Association, which sells TV advertising time on behalf of broadcasters, has also kept prices low.
"Advertisers did not believe that mobile TV would be an effective medium," Chung said, because mobile TV lacked a fixed environment to keep the viewers' eyes trained on the sales pitch.
Contrast that with a study by BIA Financial for the National Association of Broadcasters, which predicts that mobile digital television advertising will provide an extra $2 billion annually for U.S. broadcasters by 2012.
The Open Mobile Video Coalition, which has worked to develop the ATSC-M/H standard and lobbied for mobile digital TV in the U.S., now counts more than 800 member stations.
Thirty stations will consumer-test the new standard in April after taking on the new technology for about $75,000 to $150,000 and a longer-term expense of "a few hundred thousand dollars," says Dennis Wharton, the NAB's Executive Vice President of Media Relations.
"It's not like making the transition from analog to digital television which cost a minimum of about $2 million per station," Wharton told CNN.
Unlike South Korea, where free mobile TV is mostly simulcasts from the country's largest TV stations, the U.S. rollout is local programming. Wharton predicts this will draw in both viewers and advertisers, citing the "once-in-a-century" snowstorm that blanketed Washington D.C. earlier this month.
"People wanted to know whether their kids were going to school, whether their work was going to be closed," Wharton said. "That's the type of intensely local programming that only broadcasters can provide on these sorts of handheld devices. We've got a great franchise there."
Local and premium seem to be the two business models to follow.
The 2006 Football World Cup and the 2008 Beijing Olympics were hits on South Korean mobile TV, hinting that must-see-live programming could be lucrative.
U.S. West Coast viewers are furious with NBC's coverage of this year's Winter Olympics because they must watch the contests with long delays -- hours after news outlets have reported the results.
The premium content has so far been the core of Qualcomm's subscription-based FLO, which delivers shows from major networks ABC, CBS, NBC and Fox, along with specialized channels like ESPN and Disney.
Mazen Chmaytelli, a Senior Director for Business Development for MediaFLO, sees the new ATSC-M/H service as a way to get mass viewership and introduce more people to mobile TV, noting that cable TV was first driven by local channels in set-top boxes.
"When they started offering that, customers started demanding premium content," Mazen told CNN. Qualcomm is positioning FLO as a complementary hybrid specifically designed for a mobile TV experience.
"Every phone has a camera right now but a lot of people still own their own digital camera to complement it," Mazen said.
Online viewing, video downloads and peer-to-peer file sharing remain mobile TV's toughest competitors. In a 2009 survey by the Korea Communications Council, 70 percent of respondents said they watched re-runs of shows on the TV stations' Web sites, a field in which Hulu and TV.com are U.S. leaders.
Only 6.9 percent said they used their cell phones to download or stream video.
South Korean broadcaster MBC announced in January it would make all its content available for free peer-to-peer sharing after a small download fee per show, expecting gains from better exposure to the mostly young peer-to-peer users.