New Apple product is ... Aperture 3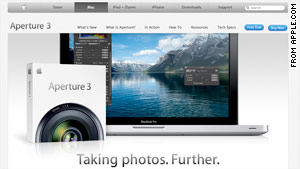 Apple announced the release of Aperture 3 photo editing software on Tuesday.
STORY HIGHLIGHTS
Apple store updates photo editing software

Tech observers speculated about announcement after online store went offline

Guesses included iPad sales, new laptops and iTunes updates

Aperture 3 includes face recognition, new slide shows and library abilities

(CNN) -- Apple on Tuesday unveiled Aperture 3, the latest update of its photo editing and management software.
The announcement came around 8:30 a.m. Tuesday, after a few hours of rampant Internet speculation about why Apple's online store went offline -- the telltale sign that a new product is on the way.
On tech blogs, Twitter and some news sites, writers were playing what Wired magazine called "one of the high-tech universe's favorite parlor games."
Guesses ranged from a new laptop, to an iTunes update to Apple taking orders for the much-hyped iPad, which is scheduled to start shipping in a little under two months.
Instead, they got the fairly routine bit of news on Aperture.
The new tool includes more than 200 new features, including the ability to organize large photo libraries with more flexibility, according to the company.
It expands the Aperture program's Faces and Places feature to Faces, Places and Brushes -- adding the ability to paint image adjustments onto parts of photos.
Faces has face recognition capability that allows photo groups to be created based on the people in the photos. New adjustment presets will let users apply photo effects with a single click, according to a written news release.
"I am beyond impressed with the massive changes made in Aperture 3," National Geographic photographer Jim Richardson said in the release.
Other new features include slide show capabilities that allow users to incorporate photos, audio, text and video -- and to choose from one of six designed themes or create their own.
The program retails for $199, and existing Aperture users will be able to upgrade for $99.