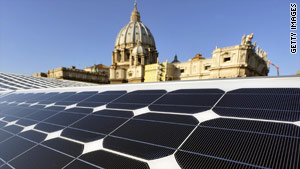 Roofs in the Vatican City covered with solar panels point the way to off-grid power.
STORY HIGHLIGHTS
UK announced rates for people who produce own power through renewable energy sources
Many campaigners hope that it could kick-start green energy revolution
Critics say UK's plan is not ambitious enough; there are more successful European models
As well as cash incentives, key is finding right means of power production to suit the building

(CNN) -- The price of power has always been a political issue -- but now campaigners argue it could be the key to starting a green energy revolution.
On February 1, the British Government announced details of the rates that will be paid for renewable power generated by homeowners and communities.
Called the Clean Energy Cashback, or feed-in tariff (FIT), the aim is to provide an above-market bonus that will encourage individuals and groups to invest in solar panels, wind turbines and other forms of green power.
It's the first national scheme of its kind in the UK, although FIT plans have been operating in other EU countries and at regional levels in the U.S.
Paul King, chief executive of the UK Green Building Council told CNN that the announcement will help make small scale renewables a more attractive and viable option, for householders, communities and businesses. King also believes that it will also support an emerging green industry and generate high quality jobs.
But others are less enthusiastic about the UK's plan, and believe the Department of Energy and Climate Change's ambition that two percent of electricity generated from small scale renewables by 2020 doesn't go far enough.

Video: Hydrogen fuel at home
"Research shows that a successful incentive mechanism set at the right level, like the FIT scheme, could deliver up to six percent of the UK domestic electricity demand," Jemma Robinson, Renewable Energy Association, told CNN.
When Germany introduced a similar FIT scheme 10 years ago -- but with targets of ten percent -- it started a green energy revolution in the country, turning it into a European leader in renewables.
There has been considerable public interest to the scheme in the UK.
"It could mean in future not just new-build homes but existing homes will include some small-scale renewable energy generation."
--Steve Turner, Home Builders Federation
A YouGov survey published at the end of January for the Renewable Energy Association, Friends of the Earth and the Co-Operative Group, revealed that 71 percent of UK homeowners said they would consider installing green energy systems if they were paid enough cash.
If widely adopted micro-power generation could transform the shape of our homes and how housing is built.
"It could mean in future that not just new-build homes but existing homes too will include at least some small-scale renewable energy generation," Steve Turner, Home Builders Federation, told CNN.
"At present the technologies most likely to be used appear to be solar thermal panels and photovoltaic panels which can be accommodated on or integrated in roofs [but] we can look forward in the future to community scale electricity and heat generation from renewable technologies."
However the key is finding the right technology for the right area.
"Householders need the best possible advice on what works for their home -- one solution will not 'fit all'," John Alker, Head of Advocacy at the Green Building Council told CNN.
"That is also important in order for technologies to remain credible. For example, in the past micro wind turbines have been used in built up areas and credibility has suffered as a result.
"But without a sufficient financial incentive, homeowners and house builders will be reluctant to invest, and there will be little progress."
At stake in the future of micro-power generation are not just carbon emissions -- campaigners also argue that localized green energy will have other benefits.
"Renewables are decentralized by nature, largely benign and can work effectively at small as well as large scale. Small scale power technologies are about the economics of mass manufacturing and deployment - rather than economies of scale," Leonie Greene of the Renewable Energy Association told CNN.
"That also means a change in ownership patterns. Potentially everyone can become an investor. These smaller technologies are also important globally -- the implications for the global south, which often lacks grid infrastructure, are extremely positive."
Oliver Harwood, Chief Surveyor of the UK's Country Land and Business Association Limited believes that micro-power generation will make people much more aware of their energy use.
"The growth of smaller scale energy influences neighbors and the wider community: it has a knock on effect which multiples. It can address fuel poverty, and insulate against rising fossil fuel prices into the future," he told CNN.
Yet Harwood remains skeptical that the UK has the right approach to renewable energy in general.
"One can argue that the UK approach to renewables has to date been an abject failure," he said.
"[Incentives so far have] supported only the cheapest very large scale projects that have been imposed on unwilling communities, causing significant resistance, and overall leading to a much lower rate of delivery than in other EU countries.
"The UK is 26th out of 27 EU member states in renewable electricity generation, only Malta does worse.
"In contrast the 20 or so EU members who have used Feed in Tariffs to drive power from the people have ended up with far more renewables (Germany at more than 13 percent compared to UK's 5.8 percent) with far less public concern. We note communities in other countries do not protest against their own wind turbines."
It seems at best unclear whether the announcement of Britain's FIT scheme will enable the country to join its European neighbors and take a great leap forward in green energy.