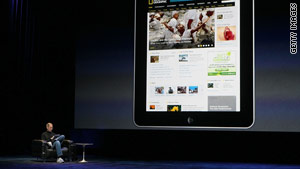 Apple announced a number of apps that will be included in the iPad when it launches in two months.
STORY HIGHLIGHTS
Apps could make or break Apple's new gadget, the iPad

Developers: Most smartphone apps will be reworked to fit on a 10-inch screen

The apps may also be more expensive than those for the smaller iPhone and iPod

But some say they doubt if iPad apps will be fundamentally better than existing apps

(CNN) -- If recent gadget history is a guide, consumers considering Apple's new iPad won't focus so much on the product specs -- the big screen, fast processor, long battery life and the like.
They'll look instead at what the product can do.
And to find out, they'll turn to its lineup of apps -- those cheap, downloadable programs that run on mobile phones and other gadgets.
"The reason why people buy an iPhone is because there are 140,000 apps and you can change your iPhone into anything you want," said Gene Munster, a senior research analyst at Piper Jaffray.
At the iPad's unveiling last week in San Francisco, California, Apple Inc. CEO Steve Jobs went to great lengths to say how robust the iPad's app "ecosystem" will be. He said app developers will encounter a "gold rush" of opportunities if they develop programs for the device.
He showed off a new suite of $9.99 iWork apps for constructing spreadsheets, creating presentations and designing document layouts.
The turtleneck-clad Jobs also trotted out game developers such as Travis Boatman, who said Electronic Arts, where he is a vice president, will redesign its games to be cooler, faster and, above all, bigger on the iPad's 10-inch screen.
"It's a little bit like holding a hi-def television just inches from your face," Boatman said at the presentation, referring to gaming on the new device.
But not everyone is sure the iPad will see the same flood of app-development that followed the releases of the iPhone and iPod Touch, two pocket-size devices known for accessing the world's largest database of mobile applications, Apple's App Store.
And, according to Munster and others, iPad apps are likely to be more expensive -- in the range of $4 for an average iPad app instead of $1.90 for apps on the iPhone, he said.
Apple declined to comment for this report.
iPhone games, widgets and programs already for sale in the App Store will automatically enlarge to fill the iPad's larger screen. Apple's App Store is the leading source of smartphone applications and about nine times larger than Google's rival Android Market, which sells a reported 16,000 apps for Android-based phones.
But app developers and mobile experts said the iPad isn't capable of anything fundamentally different from the iPhone and iPod.
All three of those touch-screen gadgets have accelerometers, which allow users to, among other things, tilt their phones to the left and right to control mobile games. All have GPS compasses, allowing for some neat mapping and navigation apps based on a person's position on the globe.
Essentially, apps on the Apple iPad simply may be bigger versions of what's come before.
That makes the iPad potentially less exciting for developers than the iPhone, said Peter Farago, vice president of marketing at Flurry, a group that tracks app sales, and who formerly worked in the video-game industry.
"The innovation is going to be limited to what's possible [on the iPad], you know," he said. "I don't think imagination can override the true limits of what's offered."
Farago added that no one was sure what programs developers would create for the iPhone when it debuted in 2007. Similar surprises could result once the iPad goes on sale in about two months, he said.
The larger iPad screen may also make new advertising schemes possible, since banner ads don't fit on the iPhone without blocking a substantial portion of its 3.5-inch screen, he said.
Even if apps on the iPad are simply bigger versions of what's available now, that still might make them more interesting.
Michael McWhertor, senior editor of the gaming blog Kotaku, said the iPad's 10-inch screen will give developers room to bump touch-screen controls off of the video game itself. So, where a person might have had to put their thumbs in the way of video-game action on the iPhone, a sliver of touch-screen space used only for game controls might make gaming more comfortable on the iPad, he said.
The iPad's size also brings limitations, he said. "While it's not heavy, it's a little more awkward to grasp" than the iPhone, he said.
Books apps are likely to fare better on the iPad's larger screen than on phones.
Jobs last week announced the opening of the Apple iBookstore, which will sell digital books in the ePub format.
An Apple-produced app called iBooks was a hit with the crowd at the unveiling, and some tech writers have said the iPad could mean the end of the Amazon Kindle, the most popular e-book reader on the market to date.
Also last week, Apple released an online kit to help mobile app developers create products specifically for the iPad.
Ryan Peterson, a spokesman for the app-development company Übermind, said developers at his company went to work on iPad apps as soon as they heard about the announcement.
"It's been a hotbed of activity," he said.
Apps for doctors, financial apps and shopping apps will work especially well on the larger screen, he said.
"This is going to open up worlds of apps and things and new processes -- and things we never even considered doing on a device like that," he said.
Cool factor aside, how many iPads Apple sells also is likely to be a major factor in whether app developers decide to work on programs for the new gadget, since that ultimately determines how much money will be made in that space.
Most analyst estimates said the slate personal computer market, of which the iPad is a part, will make up a relatively thin slice of overall personal computer sales this year. Bob O'Donnell, vice president of the firm IDG, said he expects about 3 million to 4 million of the devices to be sold this year, putting slate computers on par with the e-reader market of 2009.
Still, there's potential for iPad app developers to make money, said Farago of the app-tracker firm Flurry -- especially if all they have to do is retool existing creations for a larger screen.