Facebook 'unnamed app' bug is fixed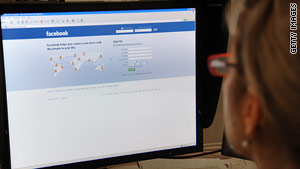 Facebook said a "unnamed app" bug didn't harm users' data before it was fixed.
STORY HIGHLIGHTS
Facebook "unnamed app" put fear into some users as word spread across site

The "small bug" didn't damage or steal data and was fixed on Wednesday, Facebook said

Users saw fake messages about comments on their posts, lost "boxes" tabs on their pages

The app had its own facetious Facebook fan page by the end of the day
(CNN) -- Word of a Facebook bug spread on the social networking site Wednesday before the "unnamed app," which officials say wasn't harmful, was fixed.
Facebook members used their status updates to warn online friends about the glitch. The following was the language many users copied and passed on:
"ALERT >>>>> Has your facebook been running slow lately? Go to "Settings" and select "application settings", change the dropdown box to "added to profile". If you see one in there called "un named app" delete it... Its an internal spybot. Pass it on. about a minute ago....i checked and it was on mine."
Facebook said the weirdness was real, but never a real threat.
"Due to a small bug, an application listed as 'Unnamed App' appeared in some users' Applications Settings," spokeswoman Malorie Lucich said in an e-mail to CNN. "No user accounts or data were lost or damaged."
Lucich said the bug had been fixed by Wednesday afternoon.
Multiple Facebook users reported that while the application was in their settings they got fake messages telling them a friend had commented on one of their photos or other posts.
Others said that when they removed the application, their "boxes" tabs on their Facebook page disappeared.
By Wednesday afternoon, Facebook users were having fun with the bug. "Unnamed App" had its own fan page on the site -- albeit with a paltry 105 fans.
"Thanks for your personal data, people! Keep those passwords coming," read one note posted by the page's administrator.
It included a supposed inbox scanner beneath the words, "Molesting your inbox. Please wait."