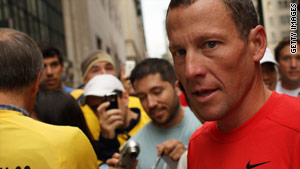 Cycling great Lance Armstrong is among the celebrities encouraging aid for Haiti on Twitter.
STORY HIGHLIGHTS
Social networking has been key to fundraising for Haiti crisis

Red Cross raised $5 million through text-messaging campaign

Facebook, Twitter, craigslist and YouTube all have gotten involved

Celebrities using their popular Twitter feeds to solicit relief donations

(CNN) -- A day-old fundraising campaign done solely through text messages and made viral on networking sites like Twitter and Facebook has raised more than $5 million for the Red Cross's relief work in Haiti.
"It's shattered any record that we've seen with mobile giving before," said Wendy Harman, social media manager for the Red Cross.
The campaign leads a spate of online efforts that have allowed people to help victims of the earthquake that has devastated the island nation.
At midday Thursday, five of the 10 most popular topics on Twitter were either directly or indirectly related to Haiti -- with "Help Haiti" topping the list.
Many celebrities, including singer Adam Lambert, actor Ben Stiller, cyclist Lance Armstrong and actress Lindsay Lohan, used their Twitter feeds to plead for earthquake-relief donations.
"Yele haiti now for the disaster," Lohan tweeted on Wednesday, referring to musician Wyclef Jean's online earthquake relief fund. "Please do all that you can. Please." Yele Haiti also has launched a text message fundraising campaign.
Armstrong, an active Twitter user with more than 2.3 million followers, posted that his Livestrong Foundation had pledged $250,000 to humanitarian aid groups.
The online classified site Craigslist posted a list of relief organizations, including Doctors Without Borders and CARE, along with links via which users can donate.
Multiple Facebook groups related to Haiti had been created by Thursday. One of the largest, Earthquake Haiti, had more than 102,000 members -- similar to the number of members on the Red Cross's page.
Many Facebook users also were changing their status updates to reflect when they'd donated to the Red Cross campaign -- thus encouraging their friends to do likewise.
The attention appeared Wednesday to overwhelm the Web site of Yele Haiti, a Haitian relief organization founded by Jean, who was born in the ravaged country and whose uncle is Haiti's ambassador to the United States.
The site was not accessible for periods Wednesday, and organizers posted messages on Twitter apologizing for the problem, which they said was caused by high traffic.
The $5 million that's been raised so far by the Red Cross far exceeds the nearly $4 million that was donated to all charities by mobile texts in all of 2009, said a spokeswoman for the organization.
Earlier Thursday, when the Red Cross topped $3 million in text and social media donations -- and $10 million from all sources -- for Haiti relief, spokesman Jonathan Aiken described it as "a phenomenal number that's never been achieved before."
"People text up to three times at 10 bucks a pop," Aiken said. "You're talking about roughly 300,000 people actually spontaneously deciding, 'I can spare $10 for this. And that's remarkable."
Harman said the Red Cross has been active on Twitter since the California wildfires of 2007.
The organization also has accounts on Facebook, Flickr and YouTube as well as its own blog, and hosts an online newsroom that provides updates on the organization's disaster responses.
She said the Red Cross has "a pretty robust social media strategy" but that the Haiti response is unprecedented.
"It feels like every person who has a Twitter account has tweeted about it, which is a pretty amazing thing to see," she said.