Editor's note: CNN.com is collecting stories from bloggers, residents and Twitter users on the ground to share in their own words what they are seeing in different cities in Haiti following the earthquake.
(CNN) -- Thursday, January 14 -- "He wanted to die with his family"
"This boy got here yesterday afternoon. He had been trapped under blocks at his house. His right left was broken in two places. He left leg was smashed below the knee. It was cold and turning black. His father walked into the yard and just fell apart. He lost his wife and four other children.
He was so thankful that he was able to pull out the son above. He just wanted to go someplace other that back to Port-au-Prince.
Then we had to tell him he had to return to the hell he had just left. He sonšs leg needs to be amputated for him to survive.
One of Enoch's friends was trapped inside his house with his (the friends) two brothers and his mother. They all died and people were trying to rescue him. He kept yelling at them to stop and leave him alone. He wanted to die with his family. They asked what they could drop down to him and he asked for a gun to kill himself.
The reality is even when the outside world begins arrives what can be done. Most of the city is damaged and needs to be torn down. Thousands upon thousands of dead bodies are laying all over the place. We have heard they are digging huge mass graves in the dump area."
-- Licia Betor, who works for the Real Hope For Haiti Rescue Center, has witnessed the devastation in Haiti as patients come to their center for help. Read more about what they saw on their blog



Thursday, January 14 -- Beds filled with rubble and stones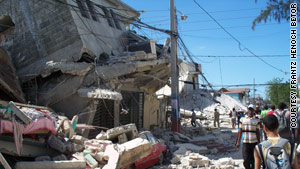 Rubble from destroyed houses in Port-au-Prince, Haiti sit on the remains of mattresses on the side of the road.
"I went back down through the village again this day and went to so many more homes that are totally destroyed.
We will never be able to build everyone here a new home it is everywhere. They would take me inside there homes and their bed is filled with rubble and stones, their kitchens which are already very poor are broken on the walls.
The people are sleeping in the road that we walk down at night because they feel more safe than in their homes. It is bad. You know the mud huts are leaning and the rock houses have big holes and walls are falling and cracks so large that it could fall on them while they sleep with just a little jarring.
I am so tired. But I must stay strong for the people.
The little one that cleans here, I went to her home and she has five children and the house is filled in with rock and here she is cleaning up here and she is sleeping in the street.
Oh I about fell to my knees when I walked in thinking that she had been helping me and her home was so bad. I told her how sorry I was and that I did not realize that her home had been broken like it was. I felt in my heart I must do something more."
-- David McDaniel is Director of the non-profit charity organization Children's International Lifeline, which helps feed and educate children in Haiti. Read more about what McDaniel and his staffers have seen in the iReport he submitted




Thursday, January 14, 1:24 p.m.: "God, I can't do this anymore"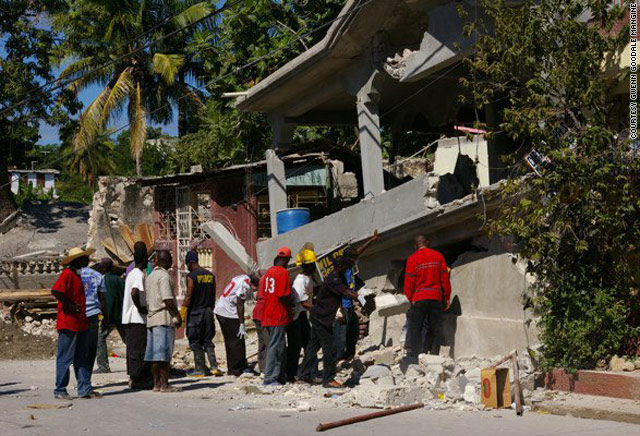 Gallery: Earthquake damage in Jacmel
"I saw the Haitian Red Cross attempting to rescue someone who was trapped and still alive under a collapsed cement building. (And had been for 2 days.)
As I stood there listening, I heard people around me talking. Her first child was taken out from the rubble and was dead and lying in a body bag right in front of me. She wailed and wailed because of the death of her child.
But she sat there, clinging to her husband for support because she knew she still had a living child under the rubble. The rescue went on for a while. The smell of death made everyone cover their faces until someone finally brought out a jug of formaldehyde and started splashing it all over the body bag.
We waited and waited while people continued to dig. After some time had passed they were passing water in as they'd apparently found the person and were getting them water. More time passed... and while the rescue continued, the child died.
Read more about what Mangine has seen in Jacmel, Haiti
When they came out with the news that the child died the mother wailed and wailed and wailed, "Bondye! Mwen pa kapab fè anko!" ("God, I can't do this anymore") In my mind, images of women delivering their babies flashed through my mind in a slideshow... "Bondye... Mwen pa kapab fè anko! Mwen pa kapab fè anko! Mwen pa kapab fè anko!"
-- Gwenn Goodale Mangine, a houseparent at an orphanage in Jacmel, Haiti, working with the missionary group "Joy in Hope". Read more about what she saw at the rubble at her blog




Thursday, January 14, 11:12 a.m.: Living in the streets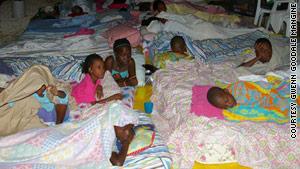 In cities across Haiti, residents are sleeping on mattresses and boxes in driveways or on the street.
"The streets are now the living rooms of the population.."
"you don't have to drive to see the damage, where ever you walk there is something out of the ordinary..often the suffering is silent"
-- Richard Morse, in Port-au-Prince Haiti on his Twitter feed




Thursday, January 14, 8:13 a.m.: No phones, no power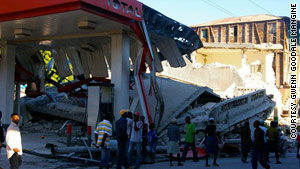 A gas station is destroyed in Jacmel, Haiti after the foundation of a house fell on it Wednesday.
"we still do not have any phone service. there is no power in jacmel and it's expected to be out for a long time. we have a generator which we are running only at night to conserve fuel. (they pyes will keep power 24/7 so that we can continue to use the internet.)
our internet service is not working and the pye's internet is not too strong. we cannot skype or do any kind of video chat.
i know that everyone is worried about friends and family. we're doing our best to answer your replies, but we've limited hours in the day and are trying to make sure our families are well cared for during this crazy time too"
-- Gwenn Goodale Mangine, a houseparent at an orphanage in Jacmel, Haiti, working with the missionary group "Joy in Hope". Read more about what she's seen at her blog




Thursday, January 14, 8:00 a.m.: "There are so many bodies"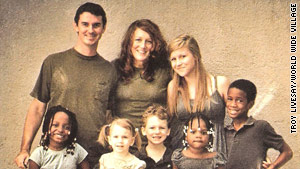 Troy and Tara Livesay live with their large family in Port-au-Prince, Haiti.
"The deceased are being dragged to the side of roads, covered in sheets and left. We don't live in the hardest hit areas but even so there are many bodies.
Everything in Haiti (PRE earthquake) runs on generators and inverters and batteries == sometimes (pre earthquake) we get a city power current.
Now there is no city current. Right now the Internet companies need to use diesel and generators to offer us service. It won't likely last ... and will come and go. We'll do our best to stay in touch. Diesel is going to go fast and will be needed for any sort of communication.
Pray."
-- Tara and Troy Livesay, an American couple, are country directors for World Wide Village, a Christian missionary group in Haiti. Jacmel, Haiti. Read more about what they've seen after the earthquake at their blog