Microsoft glitch sends texts from the 'future'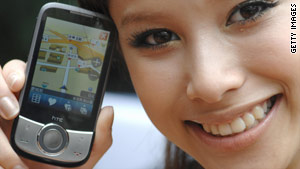 Users of the HTC Touch phone are among those reporting the 2016 glitch.
STORY HIGHLIGHTS
Smartphone owners have been getting texts from the year 2016

Problem with Windows Mobile kicked in on New Year's Day

Sprint network, HTC phone users are most frequent reporters of problem

Microsoft is working on the problem, says it has affected small number of users
(CNN) -- Some smartphone owners running Windows software say they're getting messages from the future.
At least that's how it looks. Since New Year's Day, a small but growing number of users are reporting that the date on the texts they're receiving says that it's 2016.
While the problem with Windows Mobile was first reported on January 1, other users have reported it cropping up in the days since.
For the most part -- largely, no doubt, because there are no other obvious problems with the texts -- users appear to be having fun with their supposed glimpses ahead in time.
"Kind of throws a kink into that 2012 theory, eh?" wrote one user on a Sprint message board, referring to the apocalyptic (and oft-mocked) theory that the world will end that year.
"I got a text from my girlfriend from the year 2016 ... ," wrote another. "Apparently in the future I still haven't cleaned out the hallway closet."
Microsoft said it is aware of the problem and working on it with telephone manufacturers and other partners.
"These reports have not yet resulted in widespread customer inquiries," the statement said. "However, we are working closely with our manufacturing and mobile operator partners to investigate the cause and correct the issue as appropriate."
While some online users have posted workarounds for the problem, Microsoft is yet to get rid of it.
According to multiple tech blogs and message boards, most people reporting the problem were using HTC phones and the Sprint network.
Until Microsoft or one of its partners comes up with a solution, users will just have to deal with the fact that, as tech gadget site Gizmodo wrote, the futuristic texts "are a bug, not a feature."