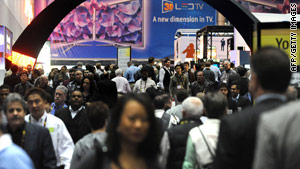 CES showed how the next decade is going to bring about another leap in the way we work, play and communicate.
STORY HIGHLIGHTS
One of the more prominent trends at CES was Internet connected TV

CES filled with computers that close the gap between smartphones, laptops

MyFord Touch lets you turn your car into a wifi hotspot
(Mashable) -- In the 1990s, many of us began our online experience, likely over a dial-up connection. In the 2000s, broadband redefined the way we use the Internet, enabling advancements like online video and social networking to flourish.
And if the first major technology event of the new decade -- CES -- is any indication, the 2010s are going to bring about another quantum leap in the way we work, play and communicate as the Internet becomes embedded in virtually everything we do.
In the living room
One of the more prominent trends at CES was Internet connected TV. The Boxee Box -- a device that connects to your television and lets you play videos and music from the Web took home the show's "Last Gadget Standing" award.
DivX is making a similar play to bring content from the Internet to television, but doing so without any additional hardware required.
Beleaguered Internet giant Yahoo is also betting big on this trend with a slightly different angle as it tries to reinvent itself. Through its Connected TV service, Yahoo is enabling users with Internet connected televisions to do things like access their playlists, communicate with friends on Facebook and Twitter, and get stock quotes from CNBC, using the familiar concept of widgets that's become so popular on the Web.
There's a good chance your next TV might feature Connected TV too -- Yahoo has already done deals with LG, Sony, Samsung and Vizio.
Yet another new product in the Internet TV space comes from Samsung, who is borrowing the "app store" concept from Apple's iPhone to create a marketplace for applications that run on your HDTV.
And much like there always seems to be "an app for that" on iPhone, expect Samsung and its application makers to provide you with everything from weather to games to streaming movies from Netflix.
Finally, don't forget about Microsoft. The company's CEO Steve Ballmer devoted a significant portion of his opening keynote speech to Xbox Live, its platform that connects the console to the Web for social gaming and other forms of digital content.
In the years ahead, Xbox Live will become a platform for much more and be the 800 pound gorilla in the room going head-to-head with other companies looking to capitalize on the Internet connected TV trend.
In the mobile workplace
Moving from the living room to the office, we're about to become an even more always-on, always connected culture. Beyond a variety of new smartphones -- including Google's much talked about Nexus One -- the booths of CES were filled with tablet computers, e-readers and netbooks that close the perceived gap between smartphone and laptop.
That gap can be defined as one of size (laptops are too big and cumbersome for that tiny seat in Coach while smartphones are too small for lengthy typing) and function (laptops need wifi or a broadband card to access the Web on the go).
This new computing class looks to address both of these issues with lightweight devices that feature desktop-like interfaces and always-on Internet via 3G mobile networks.
Some notable devices unveiled in this category include Lenovo's Skylight Smartbook, which will be sold through AT&T, the Skiff Reader, which will be sold through Sprint, and a to-be-named HP tablet computer, shown off briefly by Ballmer. The overarching theme of all of these devices is clear: providing a better user experience that revolves around an always connected lifestyle.
On the road
At this point you might be thinking that "going for a drive" might be your last escape from the digital world. Think again. Ford (yes, the car company) made one of the biggest splashes at CES, unveiling an update to its SYNC technology called MyFord Touch that lets you turn your car into a wifi hotspot and even connects its radio with iTunes.
Much in the same way Internet connected TVs let you find entertainment, the idea behind connecting your car to the Web is to let you perform functions specific to being on the road.

Using your voice and a built-in touch screen, you'll soon be able to get driving directions, listen to Internet radio, and perform local searches. The technology will be available on the 2011 Ford Edge, 2012 Ford Focus, and on all new Lincoln models starting next year.
What it means
Ten years from now, this year's CES probably will not be remembered for the launch of any one gadget. However, it was representative of what the next 10 years will look like, with the Internet becoming as ubiquitous as electricity and new gadgets and wares being judged largely on the experience they design around it.
FOLLOW THIS TOPIC