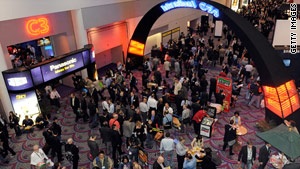 The action is at CES, but the biggest tech announcements are happening elsewhere, writer says
STORY HIGHLIGHTS
The two most anticipated tech gadgets aren't even being announced at CES

Nexus One phone from Google was rolled out in California, even as many tech journalists were on their way to Las Vegas

Meanwhile, Apple is expected to unveil its anticipated tablet computer later this month

Writer says the real news is platforms, not the gadgets rolled out at the show
Editor's note: Pete Cashmore is founder and CEO of Mashable, a popular blog about social media. He is writing a weekly column about social networking and tech for CNN.com.
(Mashable) -- As 100,000 technology addicts descended upon Las Vegas this week for the Consumer Electronics Show, it's notable that the two most anticipated gadgets in recent memory aren't even being launched there.
The major trends at CES appear to be Internet television, tablet computers and a 3D-TV craze riding on the blockbuster success of Avatar. But this volley of lackluster launches pales in comparison to the hype around new gadgets from Google and Apple.
Attention Turned Elsewhere
Google's Nexus One smartphone, the search engine's first foray into the consumer electronics market, launched Tuesday in Mountain View, California -- a strange choice for Google given that many tech journalists were already CES-bound that day.
Google has a booth at CES with the Nexus One on show, of course, but the buzz around the search engine's iPhone rival has all but drowned out new mobile launches at CES, such as Motorola's Backflip and Dell's decision to bring its Mini 3 to the US.
In fact, given that both phones run Google's Android operating system, the devices are inevitably being compared to the Nexus One -- unfavorably, it would seem.
Meanwhile, Apple is expected to unveil its long-rumored tablet (perhaps named the iSlate) in San Francisco on January 27.
The frenzy around this potential announcement has taken the sheen off numerous tablet prototypes previewed at CES -- including a Windows 7 device from HP and an Android tablet from Dell.
As if to further the disappointment, there was no sign of Microsoft's innovative "Courier" tablet which some expected to see during Steve Ballmer's keynote.
With the Nexus One launch preceding it and Apple's "reality distortion field" casting a large shadow, CES seems sandwiched between two potentially game-changing events. It's at risk of becoming Apple's warmup act.
Think Platforms, Not Gadgets
The biggest gadget launches this month aren't even about the hardware -- not really. Sure, Google's phone is even thinner than the iPhone and Apple's tablet will no doubt be minimalist, sleek and lightweight. But their lasting power lies in the ecosystems they foster.
Google's Android Market has more than 20,000 applications and developers will be incentivized to create many more now that Google is backing a state-of-the-art handset. More apps means more utility for users, which in turn means more sales of Android-powered phones. All of which creates a virtuous circle cementing Google as a major player in the mobile OS market.
Apple, meanwhile, would be foolish not to capitalize on the tablet's potential as a reading device. The company already has critical mass in the music market with iTunes -- by extending the iTunes Store to include books, newspapers and magazines optimized for a tablet-sized screen, Apple could stomp all over Amazon's Kindle.
Critical mass is key here too: publishers will focus their efforts on whichever device accrues the largest customer base, and customers will flock to the device with the largest stash of content.
In short: shiny gizmos are a trojan horse in a battle that's all about applications and content.
CES: Stuck in the Middle
CES 2010, then, is a gadget sideshow squeezed between two blockbuster device launches -- neither of which are really about the gadgets themselves.
Welcome to the weird world of 2010, wherein app stores and content marketplaces are arguably more important than megapixels and gigabytes.
© 2013 MASHABLE.com. All rights reserved.