Pioneer to launch high-tech car stereo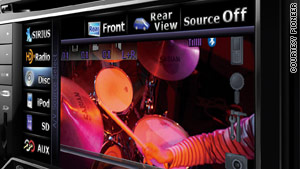 Pioneer debuted the AVIC-X920BT at CES Wednesday. Car tech is emerging at the annual trade show.
STORY HIGHLIGHTS
Pioneer offering car stereo with GPS, Pandora equipped

Touchscreen device has voice commands, "ecological awareness" feature

Company will offer AVIC-X920BT stereo for $1,200

Other companies expected to unveil car stereo products at CES
Las Vegas, Nevada (CNN) -- Pioneer became the latest company to jump on the car-tech bandwagon on Wednesday when it unveiled a new car stereo unit that has maps with local searches, a "music sphere" and tunes from the Internet radio site Pandora.
A number of companies at the Consumer Electronics Show -- the largest trade show of its kind in the world -- are or will be featuring gadgets to help drivers get around more easily, access their music databases and give voice commands to their cars.
Pioneer's touch-screen AVIC-X920BT takes voice commands and has an "ecological awareness" feature to tell drivers about how efficiently they are driving.
A demo at CES showed the navigation device searching for local information and pinpointing it on a GPS map. Drivers can give voice commands to tell the product where they would like to go.
The device will be available in April and costs a whopping $1,200, according to the company.
GPS mapping devices for the car, which find fast routes for drivers and help them get to their destinations, have been falling out of favor as of late, replaced by GPS-enabled smartphones that essentially can perform the same functions, and can be attached to a car dash.
The Pioneer stereo also plays music and has other functions, making it somewhat different from stand-alone car GPS systems.
Microsoft and Kia this week announced a partnership to bring in-car technology called UVO to some Kia cars starting this summer, according to a news release.
The system uses Microsoft's voice recognition technology and lets drivers tell the device what music they would like to listen to or who they would like to call on the phone.
The UVO is expected to be demonstrated later this week at CES.
On Wednesday, Pioneer also promoted its PAIS technology, which the company said helps a myriad of devices -- from iPods to home stereos, car stereos and computers -- talk to each other.
Pioneer on Wednesday made that communication technology available for other gadget makers to use.