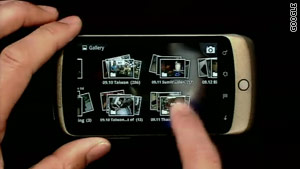 Nexus One will be a global-system device with a 3.7-inch touchscreen and a 5-megapixel camera.
STORY HIGHLIGHTS
Google unveils Nexus One "superphone"

Phone will be sold only on Google-run Web site

Nexus One will cost $180 with phone contract, $530 without

Phone's features include voice-to-text

Follow CNN's technology coverage on Twitter: @cnntech.
(CNN) -- Calling it their "superphone," Google unveiled the Nexus One on Tuesday, marking the online search giant's first leap into the smartphone market.
The phone, which goes head to head with Apple's darling of the market, the iPhone, is sold only through a Web store operated by Google and, unlike the iPhone and most other current smartphones, is available either with or without mobile service.
"We are very happy to be able to offer a choice," said Mario Queiroz, Google's vice president of product management.
T-Mobile is the initial service provider. Verizon in the United States and Vodafone in Europe will be coming on board later, and more operators are expected.
Already available Tuesday, the phone costs $180 with a contract or $530 unlocked, leaving the phone open to other carriers.
Among the Nexus One features Google announced at an invitation-only event at its California headquarters was text without typing. A voice-enabled keyboard allows users to send texts, e-mails or Facebook updates by speaking into the phone.
It is a global-system device with a 3.7-inch touchscreen, 5-megapixel camera, Wi-Fi connectivity, an accelerometer and a compass, according to Google.

Video: Details of Google's Nexus One

Video: Google announces nexus One
Nexus One runs the latest version of the Android operating system, Android 2.1, which is also made by Google but runs on other phones as well.
"It pushes the limits of what's possible of a mobile phone today," said Peter Chou, the CEO of HTC, which designed the Nexus One.
Google recently released the phones for use by some of its employees, leading to the inevitable appearance of videos and unofficial reviews online.
The move has prompted online chatter about an "iPhone killer," a phrase bandied about before every major smartphone debut. But reviewers who saw the phone pre-release have more modest expectations.
"I don't think anything is an iPhone killer," said Kevin Burden, a mobile industry analyst with New York-based ABI Research. "Was the iPhone a Blackberry killer? It's never going to be that one device that was promised to us a decade ago."
Video: Fortune.com's Michael Copeland got his hands on the Nexus One
Google spokesmen on Tuesday repeatedly stressed their phone's openness: allowing multiple service providers and applications from multiple developers, unlike Apple's one-stop shopping approach for the iPhone.
But they downplayed suggestions of becoming an "iPhone killer."
"I think the message isn't to the iPhone specifically," Google Vice President of engineering Andy Rubin said. "I think it's to consumers. I think choice to consumers is an important thing."