STORY HIGHLIGHTS
Martina Navratilova is climbing Mount Kilimanjaro for Laureus Sport for God Foundation

Tennis legend was diagnosed with breast cancer in February

After an operation and radiotherapy, doctors give 54-year-old an excellent prognosis

Navratilova works for sports, human and animal rights charities all over the world
London (CNN) -- By her own admission, it's been a rough year. But Martina Navratilova is determined to finish 2010 on a high.
After battling breast cancer earlier this year, the tennis legend is climbing all 19,341 feet of Mount Kilimanjaro in Tanzania to raise funds for the Laureus Sport for Good Foundation.
"I'm very excited," Navratilova told CNN. "I've been waiting for a year to come here."
Navratilova is leading a team of 27 on a week-long trek up the mountain which started Monday and hopes to raise over €100,000 ($133,000) in the process.
She confessed to a few nerves before the climb as the media spotlight focuses on her ascent and said that her body is built "more for speed than endurance."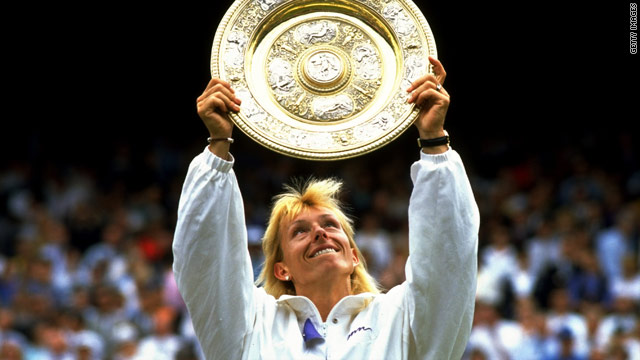 Gallery: Champions on and off the court
But recent altitude tests revealed she had the lungs of a 25-year-old. Not bad for someone who turned 54 in October and has just been through the most physically and emotionally traumatic year of her life.
Navratilova's year began badly when she broke her arm playing ice hockey -- her first-ever broken bone -- and quickly got worse when she was diagnosed with breast cancer -- a ductal carcinoma in situ -- at the end of February.
Navratilova's inspiring fight with cancer
It was a day she described as "my own personal 9/11."
But a lumpectomy in March followed by a six-week course of radiotherapy has given her an excellent prognosis, according to her doctors. And the treatment did little to slow down the indefatigable former champion, either.
Encouraged to continue exercising during radiotherapy treatment, Navratilova kept on doing what she's always done: keeping fit and playing (and winning, of course) tennis, partnering Jana Novotna to win the Ladies Legends Doubles title at the French Open in June.
Before she set off on her climb, Navratilova stopped off in Nairobi to lend her support to the Laureus-sponsored Mathare Youth Sports Association project in one of the Kenyan capital's largest slums.
I've always had a positive outlook on life and live very much in the moment. It's reaffirmed that in me
--Martina Navratilova
Together with Kenyan Olympic champion runner Kip Keino, she launched a new curriculum for the project aimed at improving the teaching skills of community leaders and helping to train organizations in other countries to replicate its good work.
"I've been to many projects but the kids in Africa and in Kenya particularly have so little. I've spent a lot of time there and I'm always amazed by the attitude of the people. It's great to be involved in these projects where very little goes a long way," Navratilova said.
Skills learned on the sports field can teach kids so much about life off it, Navratilova said, and a lot of the time you pick them up without even knowing it.
Whether it's being a leader or following instructions, she believes that figuring out problems and finding solutions all are transferable to life in general. That and a positive mental attitude.
"A positive attitude is half the battle, if not more, in life," Navratilova said. "It all relates to what we go through in life and knowing how to deal with adversity. Sport is a great tool for that, especially for girls to get more confident and believe in themselves."
For Navratilova, who grew up in the former Czechoslovakia, such encouragement was one of the few things, along with universal healthcare, that was good about growing up under communist rule.
"I come from a family of very strong women. My mom was very athletic, so was my grandmother," she said.
"I was never told, 'Girls don't do that,' whereas in Western Europe that was very much the case -- and certainly the case in America, and still is to this day."
She said the situation is getting better, but that girls are still not automatically encouraged to play sport.
Navratilova combines her work for Laureus with support for human and animal rights charities, attacking her roles with the same vigor that took her to the summit of women's tennis, winning a record 59 grand slam titles.
It's an attitude that she feels has helped her in her most challenging year so far.
"All in all, it has ended well. I'm glad it's behind me. I've always had a positive outlook on life and live very much in the moment. It's reaffirmed that in me. It has brought it in to perspective on how limited time can be."
FOLLOW THIS TOPIC