Nadal seals career Grand Slam with U.S. Open win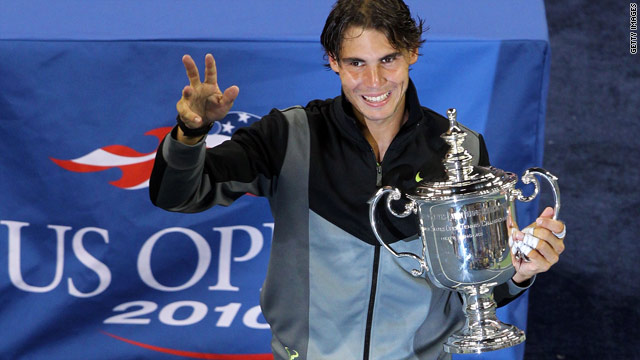 STORY HIGHLIGHTS
Rafael Nadal is seventh tennis player to achieve career Grand Slam
Nadal wins first set, drops second, but storms back to win next two sets
Novak Djokovic now has lost twice in U.S. Open final
Nadal has nine Grand Slam titles, Federer has 16


(CNN) -- Rafael Nadal sealed a career Grand Slam with a 6-4, 5-7, 6-4, 6-2 win over Serbia's Novak Djokovic in the final of the U.S. Open on Monday, making him the seventh player in tennis history to achieve this milestone.
This year had already been a vintage one for Spain and the nation's sporting heroes. Rafael Nadal was in South Africa to see his countrymen win football's World Cup for the first time, and it seems the Majorcan was truly inspired by their exploits.
Though he dropped a set for the first time in the U.S. Open during his showdown against Djokovic, Nadal handled the pressure points better than his rival and went on to seal a relatively comfortable win against the No. 3 seed, who has now twice tasted defeat in a U.S. Open final.
After his heroic exploits against Roger Federer in the semifinals, it was a tough wake-up call for the former Australian Open champion who threw everything he could at Nadal -- but ultimately to no avail.
From the moment he broke his opponent in the first game of the match, fans sensed it would be Nadal's night in New York City.
Djokovic fought hard and never gave up. After a rain delay lasting nearly two hours, he emerged with purpose to level the match at one set all. He was broken quickly in the third, though, and from there he never recovered.
The momentum had swung the way of the Spaniard and it was only a matter of time before he sealed his first ever U.S. Open crown and his ninth Grand Slam title overall. He also has: Five French Open wins, two victories at Wimbledon and one at the Australian.
Federer's record haul of 16 Grand Slam titles looks a little more attainable for the 24-year-old Nadal. Before the final, Nadal told CNN it was never an obsession of his to win this title and complete the career slam but more of a goal. The job is now done and just like his friends in the all-conquering Spanish national football team, victory is his to savour.
FOLLOW THIS TOPIC