STORY HIGHLIGHTS
Martina Navratilova tells inside story of beating breast cancer

During treatment she played in legends tournament and did TV commentary at French Open

Czech-born U.S. citizen Navratilova won 59 Grand Slam titles

She now encourages women to get regular mammograms
Watch "Martina: My Toughest Opponent" on CNN International at 1830 CET August 7, 1300 and 2030 CET August 8 and 0400 CET August 9
Paris, France (CNN) -- It's been a life filled with the highest of highs, and the lowest of lows for tennis great Martina Navratilova.
"I think anybody that survives the communist system, they're pretty tough!" Navratilova told CNN. "And then being gay on top of that, that wasn't helpful. As they say, that which does not kill you makes you stronger, so I am pretty strong."
This year she needed all the strength gained from her amazing life to fight breast cancer while continuing to play tennis and commentate.
CNN International was granted rare access to document Navratilova's treatment. She decided to tell her story because she wants women to take better care of themselves and get regular mammograms -- not put it off like she had.
"I heard on February 24, which is kind of my 9/11. You don't forget the day when your life is completely changed forever. Although I did not hear the word cancer, your biopsies (are) positive. I am like 'positive is usually good, wait a minute, that is not good, what does it mean?'" Navratilova said.
She was diagnosed with the most common type of non-invasive breast cancer: ductal carcinoma in situ, or D.C.I.S.
In Navratilova's case, the news was encouraging because the cancer was isolated and had not spread to surrounding tissue.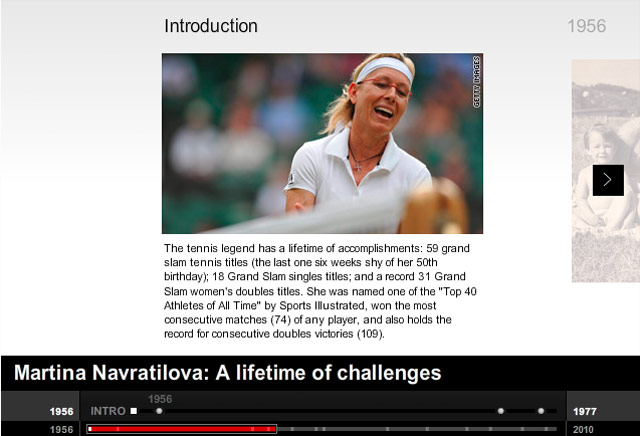 Timeline: Navratilova's greatest hits

Video: Around Roland Garros with Martina

Video: Time with Martina Navratilova

Video: Navratilova plays through cancer
Navratilova underwent a successful lumpectomy to remove the cancerous cells on March 15.
She said: "I didn't need to have chemo. The surgery was minor. I was out of the hospital that day so nothing to really knock me on my butt and really suffer from, so I was fortunate that I got the kind of cancer that you can control this way."
In true Navratilova fashion, she wasted little time. Less than two weeks after the surgery, she competed in the 24.9-mile cycling portion of a triathlon in Waikoloa, Hawaii.
Tennis legend Billie Jean King wasn't surprised by Navratilova's approach. "She didn't miss a beat. That's very Martina. She doesn't sit around wondering or fidgeting. She just gets into action. She's a woman of action. The way she played was that way and that's how she lives her life. I mean, she's still incredibly so fit in so many ways."
A couple of weeks after the triathlon Navratilova played an exhibition tennis match against Lindsay Davenport in Minneapolis, Minnesota. Davenport was impressed with how Navratilova coped with her diagnosis. "She will beat this, if anyone can beat this she can, she is strong. It did strike me as odd that someone so physically fit who takes such pride in her health, in her eating, and all aspects of her life, was just amazing that you realize cancer can reach anybody.
"Martina is handling it so well and being such a leader about it and hopefully, obviously inspiring other women to continue to be checked, because if it can happen to Martina, it can happen to anybody."
The second part of Navratilova's cancer treatment was radiation. She began her treatment on May 12 at L'Institut Curie in Paris, France.
Her doctor, Alain Fourquet, said: "We know that if we just do the surgery and nothing more there is a significant risk ... and by doing the whole breast radiotherapy we're able to importantly and significantly decrease the rate of recurrence, which becomes very low after that kind of treatment."
Navratilova underwent radiation treatments at least four times a week over the course of six weeks.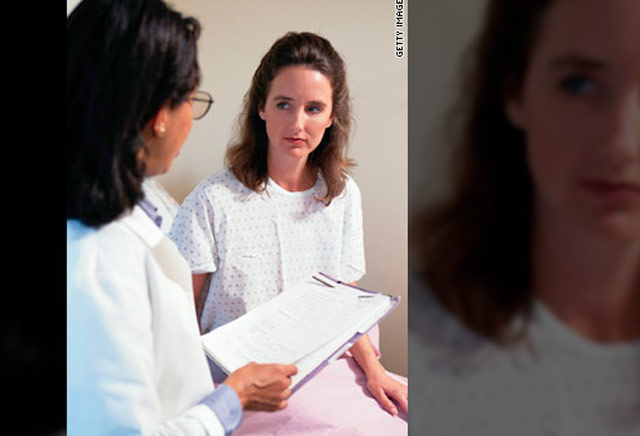 Explainer: Detecting breast cancer

Video: Martina Navratilova: The legend

Video: Navratilova's cancer shocks peers
At first, she didn't notice much change. "It's very individual, I'm feeling nothing. It's weird you lay on the table and the treatment only lasts three or four minutes you know, they organize you... I'm marked on my breast where the radiation goes so that you're positioned just right on the table," she said.
One of the reasons Navratilova wanted to undergo treatment in Paris was her commitment to the French Open.
She was scheduled to commentate for the Tennis Channel and also compete in the legends doubles tournament with 1998 Wimbledon champion Jana Novotna. Weeks three and four of her treatment coincided with the tournament.
Navratilova would start her day at the hospital, commentate in the afternoons, and then play tennis in the evenings.
She said: "I can work during the French Open and I'll be finished just before Wimbledon, so it's like you know, lucky me, it all worked out. It's like the gods were saying everything's not perfect for you but we're still giving you a break because I have a non-invasive form of cancer and the way the treatment worked out I was able to stay with my life, with the way I had planned it."
As the French Open was ending though, Navratilova found herself at the low point of the treatment. "I'm getting a little sore and getting a little run down. I go upstairs, I take the steps, two stories, and I'm getting a little more tired when I get to the top these days. Not bad... but overall, yeah just a little sore, sort of like a pressure on your breast, like somebody puts you in sort of a grip and doesn't let go, it's not horrible yet, we'll see."
Despite not feeling 100 percent, Navratilova competed in the French Open legends final on June 5 and won convincingly. She raised the trophy with Novotna by her side.
Navratilova was ready for a break then. She wanted time to herself, out of the limelight to complete her remaining two weeks of radiation.
The CNN team returned on the day of her final treatment and Navratilova was more than ready to be done with this chapter of her cancer treatment.
I haven't really had a chance to cry. Ever since I was diagnosed it's been pretty much non-stop.
--Martina Navratilova
September: Will receive award at International Tennis Hall of Fame
December: Will climb Mount Kilamanjaro
On June 16, Navratilova pulled up to the hospital -- like she had done more than two dozen times before -- but this time Novotna was with her.
"I said to Martina many times I am really grateful that I have this opportunity during this difficult time to spend this time with you, not only off the court, but also on the court and be part of something that is very special," Novotna said.
When the pair walked out the hospital later that day, Navratilova had the biggest smile on her face, she did a little dance, and then she tried to slide down the banister.
"Last day! Last day! Hallelujah! We're going to have a little party tonight to celebrate. It's a different kind of celebration, but a celebration nonetheless and it was like saying to the (machine): 'F*** you, I'm out of here! Never again. I'm never going to see you again. Done, finished.'"
When asked if this was a time of forward thinking or reflection, Navratilova said: "I'll think about it, but I'm just thankful that I caught it when I did, that I didn't wait another year and think, "Oh I'll just do that mammogram later" ... I'll be very meticulous now about going to the doctor and getting those six month check ups and one year check ups. I'm not going to let that lapse again."
Just two days later, Navratilova was on the move again -- to Wimbledon. It's the tournament were she won a record nine singles titles. She was again providing analysis for the Tennis Channel and competing with Novotna for another legends crown.
By then, Navratilova had started to feel like herself again. She said: "You know because it was so gradual, I didn't realize how flat I was. I knew I didn't feel like myself but today I feel like I hit up in another higher plateau. The skin is pretty sensitive on my breast but one place, the rest is pretty good, but I didn't realize that emotionally I was just so flat, you know, because it happens so gradually."
During Wimbledon, Navratilova started feeling strong again. She was able to balance countless interview requests, appearances, Tennis Channel work -- and most importantly her time on the court.
Novotna said: "She needs tennis to feel good. Tennis means everything to her and I asked her: 'Martina, do you think you'll be playing tennis when you're 90 or 100?' She said, for sure. I said, 'Well, if you're still playing at 100, I want to play with you."
Novotna and Navratilova won all three of their matches to reach the final and needed only two sets to win the Wimbledon legends title.
They treated their fans to a special victory lap around the edges of court 1 -- each with one hand on the championship trophy.
Navratilova said: "Now I am happy that I sort of get to rest and take care of myself. I haven't really had a chance to cry. Ever since I was diagnosed it's been pretty much non-stop, so I'm glad to have some time in July and August to myself and really reset the clock and re-evaluate everything."
FOLLOW THIS TOPIC