STORY HIGHLIGHTS
Red Bull and McLaren have won nine out of the first 10 races despite a new points system
Michael Schumacher has yet to secure a podium finish since his return to F1 with Mercedes
FIA has introduced new features for next season to encourage more overtaking
Red Bull drivers Mark Webber and Sebastian Vettel continue to fuel their frosty relationship
London, England (CNN) -- Michael Schumacher's return, a new points system, refueling banned, different tire rules -- rarely had a Formula One season been greeted with such excitement and enthusiasm.
But halfway through the 2010 campaign, things haven't quite gone to plan.
Moves to promote more overtaking and exciting racing are yet to yield significant results, while the title race again appears set to be a two-team affair as McLaren and Red Bull dominate.
Their drivers Lewis Hamilton, Jenson Button, Mark Webber and Sebastian Vettel appear to be the only ones in contention, as two-time world champion Fernando Alonso plays catch-up in his first season at Ferrari and F1 legend Schumacher is among the also-rans.
In response, the FIA's World Motor Sport Council has already announced further changes for next season, when long-time tire supplier Bridgestone will be replaced by Pirelli.
It definitely didn't make racing more exciting in terms of being able to overtake
--Lewis Hamilton on refueling ban
With this in mind, CNN looks at the eight lessons we've learned from the season so far.
1. New points system, same outcome
With the grid expanded to 12 teams, a new system was introduced offering more than double the previous points for winning races in a bid to encourage drivers to go all-out for victory.
Out went the two-point gap between first and second place, and in came a new competitive sequence, with points awarded for a top-10 finish and a seven-point gap between the victor and his nearest challenger.
Ideally, it should have made it harder for a repeat of last season's scenario -- when Brawn racked up the points early on and held off Red Bull for both driver and team titles despite a less impressive second half of the campaign.
But with nine of the first 10 races this year won by McLaren and Red Bull, these two teams have marched well clear of their rivals in both categories. With nine races left, third-placed Ferrari trail leaders McLaren by 113 points -- more than four race wins.
2. Schumacher: Not as good as he used to be
As the old saying in sport, business and relationships goes, you should never go back. No, really. Unfortunately, it seems the 41-year-old Schumacher didn't get the memo.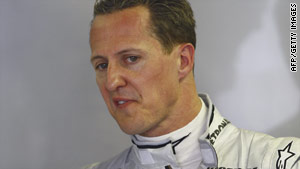 Michael Schumacher insists that his return with Mercedes is a long-term project.
The German announced his retirement from the circuit in 2007 to act as an advisor for his racing team Ferrari.
However, Schumacher found himself bored in his new role before realizing he had got his racing mojo back. A dream return to the cockpit with Ferrari last year did not happen due to a neck injury, but he subsequently reunited with Ross Brawn at Mercedes.
F1 supremo Ecclestone defends struggling Schumacher
Ten races on and the seven-time world champion is yet to secure a podium finish, let alone a win. To add insult to injury, Schumacher's young teammate Nico Rosberg -- who recorded his third podium finish of the season at Silverstone -- continues to outshine him.
3. Refueling = excitement
Money talks. Some say Formula One's decision to ban refueling for this season was based on cutting costs, while others say it was made to encourage overtaking. Given the on-track evidence so far, it seems the former is more accurate.
The opening Bahrain race was a bore, and the 2008 world champion Hamilton gave a damning assessment afterwards, telling reporters that the change "definitely didn't make racing more exciting in terms of being able to overtake."
But while the drivers and spectators were at odds with the new rule, F1 supremo Bernie Ecclestone refused to panic, telling everyone to "wait until we come back from China" before chastising the decision.
Alonso pleads patience on F1 rule changes
There is still hope. The races have improved since the dull affair in Bahrain, and if Formula One legend Alain Prost is right, it is just a matter of time before the drivers start using it to their advantage.
4. There is an "I" in Red Bull
If crashing into your teammate isn't enough to cause a rift in the team, taking away his new front wing will.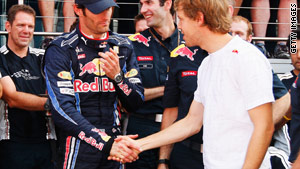 Mark Webber, left, and Sebastian Vettel shake hands after the British Grand Prix.
Red Bull drivers Webber and Vettel possess perhaps the most frosty relationship in F1, and both are doing their best to preserve it.
First they collided in Turkey, forcing Vettel to spiral out of the race and Webber to pit for a new nose before finishing third and losing vital points in the race for the championship.
That was only the beginning. Events at Silverstone last weekend saw an unhappy Webber once again, as the Australian had to sacrifice his new front wing to Vettel after the German broke his in practice ahead of the British GP.
Toy cars, a helmet, you name it, were thrown out of Webber's car despite him winning the race. This is in stark contrast to the two "love birds" over at McLaren, who have been almost at pains to highlight the healthy, competitive nature of their relationship.
5. Don't mess with Bernie
The 79-year-old Ecclestone, the most powerful figure in F1, once praised a certain Adolf Hitler for his ability to "get things done."
And on that basis it's safe to say one should never get on the wrong side of a man who prefers the can-do attitudes of totalitarian regimes to democracies. The US F1 team will vouch for that.
Having been granted entry to the 2010 season, US F1 ran into financial difficulties, before telling ruling body the FIA that the team was not ready to race. The FIA removed the Americans from the official entry list and that, it seemed, was that. Well, that's what US F1 thought.
US F1 omitted from 2010 F1 entry list
The team was fined €309,000 ($414,600) and permanently banned from Formula One for failing to compete this season. Bernie's iron fist had spoken.
6. Bridgestone burning too much rubber
Tire manufacturer Bridgestone is not having a good time of it. Take June's Canadian Grand Prix, for example. Drivers struggled to mount a serious challenge on the circuit thanks to their unforgiving, some would say inferior, rubber wheels.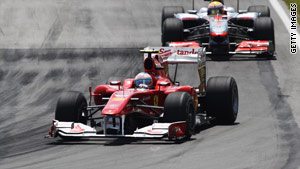 The circuit at Montreal was laden with tire marks as the drivers burned rubber.
Teams were forced to pit more frequently while the race leader changed constantly, as the tires began to grain within the first few laps.
There's also an advantage issue here too, with Mercedes team boss Ross Brawn claiming that the tire suits a certain driving style. "You can see quite clearly that Hamilton's aggressive driving style means he can get the tires working more easily than Button can," he said.
Unsurprisingly, Bridgestone has decided to withdraw from Formula One at the end of this season, with Pirelli taking its place on a three-year contract.
7. More overtaking please
F1 is about speed, yes, but the character of a race is defined by its overtaking.
This season has seen a paucity of thrilling overtaking moves, but the FIA has a cunning plan. Under the new regulations that will come into effect next season, drivers will be allowed to adjust the car's bodywork from the cockpit "for the sole purpose of improving overtaking opportunities."
McLaren engineering director Paddy Lowe said the move will allow drivers to increase their speed when attempting to overtake, leaving those in front more vulnerable.
Button - 2010 will be an epic season
However, a driver can only do so when he is less than one second behind another at fixed points on the circuit and after completing the first two laps of the race.
Not everyone is happy though. "It is good for the PlayStation I think, but I don't know how well it is going to work in F1," was Webber's take on the changes.
8. Safety first?
The FIA responded to events at this season's Monaco Grand Prix by prohibiting overtaking if the safety car is on track at any point during the final lap.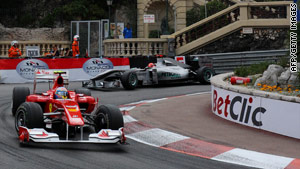 Michael Schumacher chases Fernando Alonso at the Monaco Grand Prix.
Confusion erupted after Schumacher made a last-lap pass on Alonso as the safety car pulled in. The rules state that no driver can overtake another once the safety car is on the track.
So was Schumacher in breach of such a rule? Alonso seemed to be speaking for most when he admitted afterwards that he was none the wiser, saying: "I'm not 100 percent sure of the rules."
Safety-car rules were also under scrutiny at the European Grand Prix in Valencia, with Alonso left fuming when his former McLaren teammate Hamilton managed to hold onto second place despite a drive-through penalty for an overtaking infringement.
The Spaniard himself fell foul of the race stewards at Silverstone after overtaking Robert Kubica while off the track -- his penalty was later applied during a safety-car period when the Pole retired, costing him points. Still confused, Fernando?
FOLLOW THIS TOPIC