Motorsport: Ferrari look to lure Rossi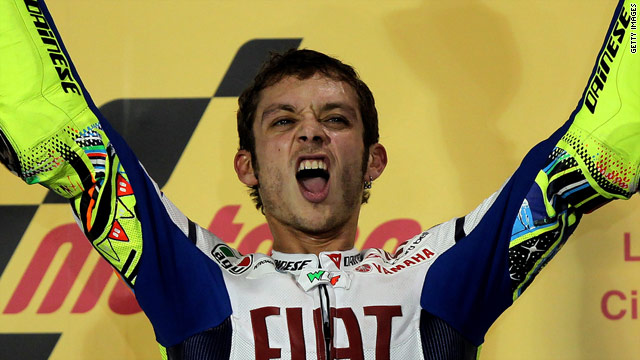 STORY HIGHLIGHTS
Ferrari want to lure MotoGP world champion Valentino Rossi into a Formula One car
Rossi is an 'extraordinary champion'
The Italian team also want a third car in the Formula One world championships
(CNN) -- Ferrari are making a bid to lure seven-time MotoGP world champion Valentino Rossi into a Formula One car.
Team president Luca Montezemolo said he wants to enter a third car into the championship and has identified Rossi as the man to drive it.
The 62-year-old Ferrari chief has said he would be eager to see his compatriot change disciplines, and the 31-year-old Italian rider should consider swapping two wheels for four.
"When he wins this year's MotoGP title, he should start thinking about winning also in Formula One and with Ferrari," he told CNN in an emailed statement.
Head of the Ferrari press office Luca Colajanni confirmed the teams' interest in a third competing car and the signing of the MotoGP legend in a further statement to CNN .
"The possibility for the major manufacturers to provide the private teams with a third car would be very effective in order to increase the appeal of Formula One," said Colajonni.
"The potential involvement of such a extraordinary champion as Valentino Rossi would be even more helpful."
As the rules stand, teams are only allowed to enter a maximum of two cars into the world championship.
If Ferrari were successful in their attempts to field a third car, it would open the door for Rossi to make the move to Formula One.
Over the course of his career, the Yamaha rider Rossi has won an incredible nine world championships.
His first was in 1997 in the 125cc class, to which he added the 250cc title in 1999. Since then he has enjoyed multiple successes at MotoGP level, winning seven world titles.
Ferrari themselves have 16 constructors championships to their name, and are the most successful team in Formula One history.