Uruguay sad, content and proud of team
STORY HIGHLIGHTS
Uruguay came to a standstill for the World Cup semifinal against the Netherlands

Fans proud but also angry in immediate aftermath of 3-2 defeat in South Africa

Thousands packed Montevideo's main square to watch on a big screen

It was two-time champions Uruguay's first World Cup semifinal for 40 years

Montevideo, Uruguay (CNN) -- A feeling of sadness but contentment reigns in Uruguay after the Sky Blues lost 3-2 to Holland in Tuesday's World Cup semifinal.
Uruguay made a strong showing in their first semifinal appearance in 40 years, but it wasn't enough to stop the mighty Orangemen of the Netherlands.
Two-time World Cup champions Uruguay were the surprise showing at the semis, making it further than traditional South American powerhouses Argentina and Brazil -- a feat that made citizens of this tiny country proud.
"I am angry and indignant now that we have lost. There are little things that the referee didn't call that really made a difference in the match.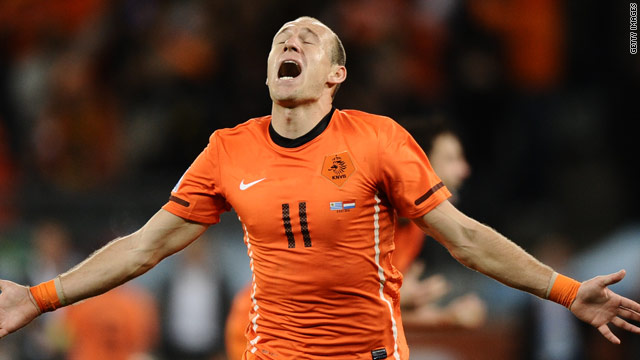 Gallery: Uruguay vs Netherlands

Video: Joy in Holland
"Holland had several fouls and offsides that the referees didn't call, but they did against Uruguay. But in the end I suppose the better team won," said Martin Pinero, 29.
Thousands of Uruguayans streamed into the Plaza Independencia, the main square in Montevideo, to watch the match on a big screen.
Fans were blowing on blue and white vuvuzelas -- they have made their way across the Atlantic from South Africa -- banging on drums, lighting firecrackers and chanting the Uruguayan song "Soy Celeste" -- or "I am a Sky Blue" -- during the entire, nail-biting match.
Once the game was under way, business stopped completely, as did traffic.
Uruguay literally comes to a stop when the national team plays, and that was certainly the case Tuesday.
Banks and businesses changed their hours. Office workers crowded around small screens to watch the action unfold in Cape Town.
"I am proud, but the feeling is bittersweet. This has been an incredible experience for our small country. The feeling of camaraderie is wonderful," said Florencia Tedesco, 31.

Part of complete coverage on

Paul the octopus, who correctly predicted the outcome of eight World Cup matches in a row, is retiring from the forecasting business.

Who's tweeting about what? Follow the World Cup trends and all the latest action from South Africa.

Are you a fanatical supporter of your national football team? Do you like to shout about your opinions? Become a CNN Super Fan!

Let your friends know where you're watching the World Cup, and earn CNN badges while you're having fun.


Most popular stories right now