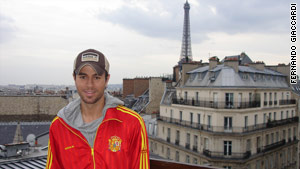 Enrique Iglesias wears his Spanish colors while in France as the World Cup unfolds.
STORY HIGHLIGHTS
Schedule cleared to watch Spain's World Cup games

Iglesias: I wanted to delay album release so I could watch the World Cup

Defeat to Switzerland was "devastating"

Best memory was at Spain '82; worst was at 2002 World Cup
(CNN) -- Singer Enrique Iglesias moved to the United States as a child but his football heart remains in Spain. As Spain prepares to play Honduras on Monday -- after losing to Switzerland in the first group game -- he talks to CNN about his heroes, football memories and fitting in games while doing promotion work.
Did you play football as a kid?
Yes, I used to play right wing when I was a kid. I don't play any more. I probably could not play for more than five minutes, I'd be in the ground. I've got no endurance whatsoever. Maybe after a tour but not before one.
As a kid I played in Spain til I was 8. I was medium, not great but not bad. Then I moved to the U.S. -- 20 years ago soccer was not as big in the U.S. as it is now -- and I was actually pretty good in comparison to the rest of the players at the time. It felt good. The coach would always put me in to play.
The best memories were of scoring goals. When you score you felt like you were on top of the world.
My favorite player back then was Diego Maradona. The second goal he scored against England [in 1986 World Cup) was so, so magnificent. It made the rest of the world -- maybe not England -- forget the handball goal and say "OK, you deserved to win."
Who are your favorite players at this World Cup?
Between Cristiano Ronaldo and Lionel Messi. And Iniesta and Torres and Fabregas and Villa and Casillas.
What does the World Cup mean to you?

Video: Spain fans in shock after defeat
If there's one World Cup where you would think this is the time where they have a chance, I would think it's this one.
--Enrique Iglesias
My album "Euphoria" comes out in July and that means I am promoting it in all June and July. I was so disappointed. That was the only thing I hated about this album to the point that three weeks ago I called the president of the record company and told him that I wanted to delay my album and move it to September due to the World Cup.
I was keen on it. I'm like "please, please, please," I begged and they said "if you move it to September just to watch the World Cup we will never speak to you again."
I was disappointed. I was "come on, it is once every four years" and they were "come on, your albums are once every three years."
Will Iglesias have a summer hit?
The World Cup is the only time my career comes second. It's crucial to me. When Spain plays they did promise me they would clear my schedule.
How do you think Spain will do?
The worst part was I was in London for the Swiss game and they cleared the schedule for two hours and I got to watch Spain and I got to see them lose. After that I didn't want to do more interviews.
It was one of those games that you watch and you say how could we have lost? You can tell their skill and they were the better team but at the end of the day it's 'you can't forgive in football,' you have to go for it.
It's not always the better team that wins and what matters is the final score. It was just devastating.
If there's one World Cup where you would think this is the time where they have a chance, I would think it's this one. Ever since I was a little kid Spain was always good, always promised a lot but they never quite get there.
CNN.com tracks the World Cup

This time, since the Euros (European championships), things have changed. From Iniesta to Alonso to Torres to Villa to Piquet to Puyol, you have Fabregas, you have Casillas. You just have such a complete team, and they are so talented and each player is so good.
But now there's a lot of pressure. They have to win. If Brazil wins their group and if Spain qualifies second they have to play Brazil. I would rather Spain wins the group and plays Portugal or Ivory Coast.
Who do you think will do well?
I think Argentina will go all the way or close. I got to watch a bit of the South Korea game and they were really good. Obviously, Brazil. It will boil down to those teams -- to Argentina, to Brazil, Italy always starts bad and ends up in a good place, Germany will be there. And hopefully Spain will be in there. It's so difficult to tell in the World Cup because anything can happen.
What are your best and worst memories of football?
Worst was the 2002 (World Cup). Spain-South Korea. They got robbed. I think the referee made major mistakes to the point that it was so so obvious it almost made you think something was going on. It was too, too obvious.
The best, when I was 5 years old, the World Cup in Spain in '82, the mascot was Naranjito. The Italy-Germany game, I was there. I watched it. I remember Paolo Rossi. He was my idol in that World Cup.
FOLLOW THIS TOPIC