STORY HIGHLIGHTS
Former Aston Villa coach John Gregory is now in charge of Israel's Maccabi Ahi Nazareth

Once touted as a future England manager, he had been out of work since 2007

Nazareth is battling relegation, but went two months without paying players

Israeli soccer clubs divided along political, religious and ethnic lines
London, England (CNN) -- John Gregory used to be a contender.
When the former England international took charge of Aston Villa in his first big coaching job, few expected him to transform the fortunes of the former European Cup winners.
But by the end of 1998 Villa stood (albeit briefly) at the top of the English Premier League and was openly touted as the next England coach.
Two years later he was leading Aston Villa out at the 2000 FA Cup final, the last to be held at Wembley stadium before it was demolished and rebuilt.
It seemed a matter of if, rather than when, he would lead his country. "Everything I touched turned to gold," he told the English tabloid press at the time.
And then his Midas touch deserted him. By 2007 he had been sacked from second division Queens Park Rangers before disappearing from the game, his early promise evaporating amid relegation and recriminations.

Video: Arabs fighting for Israel

Video: Starting over in Israel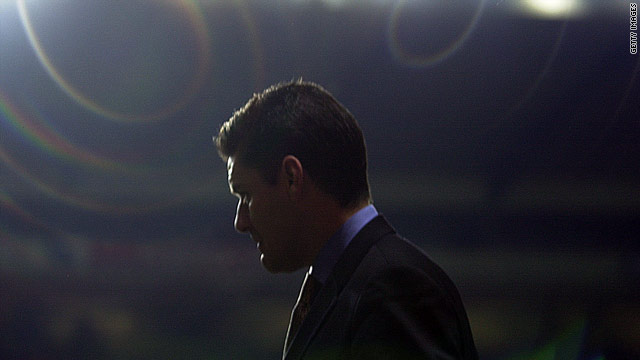 Gallery: John Gregory gallery
But last December he stepped out of the managerial wilderness in unconventional style. Gregory took charge of Israeli Premier League side Maccabi Ahi Nazareth, an Arab team facing racism, violence and bankruptcy whilst being rooted to the bottom of the league. He had, in short, chosen to resurrect his career with arguably one the toughest jobs in soccer.

"We love the underdog"
"People were saying it was a bad career move, but the more people said that the more I wanted to come," recalled Gregory, who was contacted about the job by Nazareth coach and former Israeli international Najwan Ghrayib, whom Gregory had signed for Aston Villa in the 1990s.
"I'm an Englishman. We love the underdog. Money wasn't an issue. If you're a singer you need to sing, it doesn't matter who your audience is. You sing in front of your grandad, your pals on karaoke. I needed to get on the coaching pitch and get my fix."
He couldn't have hoped to find a more of an underdog.
Maccabi Ahi Nazareth are a modest outfit, even by Israeli standards. They only gained promotion after the Israeli Premier League decided to expand the league from 12 teams to 16.
The club from the Galilee, which has both Jewish and Arab players, only attracts a few thousand home fans. As Gregory explains: "They are a third or fourth division club playing in the Premier League."
Money has been tight too, so tight in fact that the players hadn't been paid for over two months.
The fans had stones and boulders, there were rockets going off. We had to be smuggled out of the town
--John Gregory
"They come off the training pitch and you have no wages to give them, they have no money for food, to pay rent, food for the kids," he said. "Players had their electricity cut off. I was getting phone calls from players saying that they didn't have petrol to get to the game."
"I was almost acting as a psychologist and a CEO. We had some bad results but we got paid on the Thursday, and they won the next Saturday. I've had to keep a stiff upper lip."

Political hatreds
Then there's the political situation. Israeli football is a microcosm of the country's fractious political landscape. Each team still retains a distinct political identity and, when they play, the fissures in Israeli society are laid bare.
Teams like Hapoel Tel Aviv have traditionally been owned by, and aligned to, the unions and identify with the left.
At the other end of the spectrum you have teams like Beitar Jerusalem, Israel's most popular club, who have strong links with the Likud party and whose terraces boast a large, hardcore of right-wing religious nationalists.
But Maccabi Ahi Nazareth, along with fellow league side Bnei Sakhnin, represents the country's much maligned Arab, largely Muslim, minority. They provide a rare, symbolic bastion of identity for the Arab community.
Games against teams like Beitar Jerusalem, which has never had an Arab play for the club, are often explosive affairs. When it was suggested four years ago that an Israeli-Arab was to sign, riots broke out outside the ground. Beitar eventually pulled out of the move. The club has also had to play games behind closed doors as well as having points docked for racist, anti-Muslim chanting.
"The first time I came here I was shocked by the security, every shopping mall and café has got a security guard with a gun outside," Gregory said. "In England you rarely saw a gun; I suppose that was a little bit of a rude awakening seeing loaded guns on the street."

Arab v Arab
But the worst violence, surprisingly, has followed when Maccabi Ahi Nazareth has played fellow Arab club Bnei Sakhnin. Arab fraternity was conspicuous by its absence when the two played earlier this season in one of Gregory's first games in charge.
"They don't get on with each other at all, it's worst than when we play Beitar!" he laughed. "When we played at Sakhnin we had a police escort in and out. The fans had stones and boulders, there were rockets going off. We had to be smuggled out of the town."
But Gregory has won plaudits for managing to take Maccabi Ahi Nazareth off the foot of the table and giving them hope of survival following victories against the likes of Maccabi Tel Aviv, Israel's most successful club.
"He is completely different to any other manager here," explained Jeremy Last, sports editor of the Jerusalem Post. "Football managers in Israel wear scruffy T-shirts and jeans, but Gregory wears training tops and looks like a coach. In interviews, he even talks in English football clichés! But he comes across very well on TV and knows what he's doing, is genuine and honest and stuck with them through their money problems. Which is incredible really."

Relegation playoff
Now attention shifts to the relegation play-offs, where Maccabi Ahi Nazareth will face five games to save themselves from dropping out the Premier League, and almost certain financial oblivion.

If he succeeds, few outside of Israel will pay any attention. And it certainly won't put him back on the path to replacing current England coach Fabio Capello. But for Gregory, ushering his team to safety now means much more than that.
"I can categorically say it is the hardest job without any question; we had no salary and we had a team made up of cast offs, players no one else wanted, but the players I have have been a pleasure to work with," he said. "It has been exceptionally hard. If we stay up this season it will rank as my greatest achievement in life, not just football."

Tom McGowan contributed to this feature.