STORY HIGHLIGHTS
World Cup organizers race against time to put finishing touches on stadiums
One needs a pitch replacement, and at many others work continues on outside details
Officials are confident that everything will be ready for June 11 kick-off in Johannesburg
It is the first time that soccer's showpiece tournament will be held in Africa
Editor's note: Watch CNN's latest South Africa 2010 show on March 19, see Fact Box below for full details.
Johannesburg, South Africa (CNN) -- One of South Africa's World Cup stadiums needs a pitch replacement, and at many others work continues on the outside appearance of the venues, access roads, changing rooms and VIP suites.
Taxi drivers have threatened to sabotage a new public bus system intended to deal with the influx of tourists, and expectations over the number of anticipated visitors have been downgraded despite most match tickets having been already sold.
With less than 90 days to go before kick-off, it's a race against time to ensure all is ready for the biggest soccer showpiece in the world. But football's governing body FIFA insists that the first African country to ever host the event will be ready to make history.
Interactive: Discover Johannesburg's new Soccer City stadium
"It's like having a cake where you still need to put the cherries on it, that's where we are," FIFA Secretary General Jerome Valcke told CNN.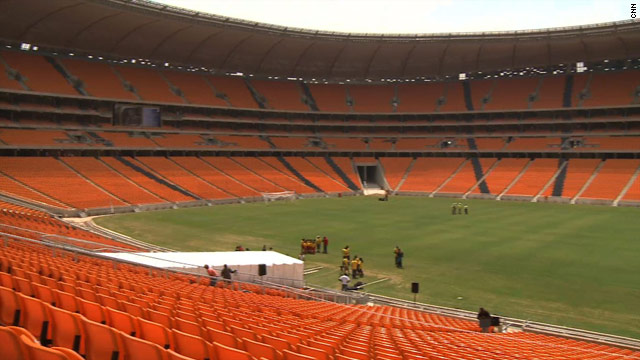 Gallery: World Cup stadiums
"There are stadiums where we need to redo the pitch, do some work, but again we are on track, the readiness is there."
South Africa has built or renovated 10 state-of-the-art stadiums for the competition. The coaches of the 32 teams that will compete for the title of world champions were here in February to inspect facilities for themselves.
Amid reports that the base camp for the English squad will not be ready on time, their coach Fabio Capello expressed confidence in the World Cup hosts.
"We are really really happy because it is the first time that we stay here and the facilities are fantastic," he told journalists.
It's like having a cake where you still need to put the cherries on it, that's where we are
--FIFA's Jerome Valcke

Video: Spain aims high at World Cup

Video: Japan's World Cup chances
In January, Argentina coach Diego Maradona also gave South Africa's organization the thumbs up. His trip came hot on the heels of the deadly gun attack on the Togo team at the Africa Cup of Nations in Angola, when questions had once again arisen regarding security on the continent.
"They can say what they want, but we know we are coming to play the World Cup in a safe country," Maradona said. "I have seen that with my own eyes.
"Anything can happen in the world, but I have spent a week in South Africa and everything is very good and the people very friendly. This will be a great World Cup with no doubts of security.
"I will tell my players that they only have to think of playing football when they come here and worry about nothing else."
Fifty people are murdered every day in South Africa, and questions about security persisted for years leading up to the World Cup. But following several reassurances, the focus has shifted to other issues.
An endorsement of the country's security plans by the police chiefs of all participating countries earlier this month has also served to confirm that, at least at match venues, visitors are expected to have adequate protection.
Have your say on the World Cup. Click here to become a CNN Super Fan.
Although 2.3 million of the available 2.9 million tickets have already been sold, all indications are that fewer visitors than the 450,000 initially anticipated will be coming to South Africa.
The March edition comes from the home of English football, London's Wembley Stadium. Pedro Pinto speaks exclusively with England coach Fabio Capello, while group rivals the United States are also profiled.
Screening times: March 19, 4pm GMT (12pm ET); March 20, 11.30am and 6.30pm GMT; March 21, 3.30am and 5pm GMT; March 22, 4.30pm GMT.

"The reality is that South Africa is a long-haul destination and it depends on the countries that have qualified. For example, Chile has qualified and for the fans of Chile to support their team in South Africa they need three flights to get here," says the head of the Local Organizing Committee, Danny Jordaan.
It takes 11 hours to fly direct from London Heathrow to Johannesburg, more than 15 hours from New York's JFK and eight hours from Sao Paulo in Brazil.
These long-haul flights do not come cheap. Hotels in South Africa have also been accused of hiking prices during the World Cup period.
So, over and above the tickets that cost between $320 for the cheapest opening game seat to $400 for the final, the whole event has become too expensive for fans still reeling from a global economic crisis.
Cheap flights
FIFA has managed to get its airline partner Emirates to drop its New York-Johannesburg flight from $3,200 to $2,000 and match tickets have been reduced in price by more than $90 for South Africans -- all in an effort to fill stadiums.
'It's not just to drive from Paris to Munich, as was the case in 2006, it's to fly over 11 hours, it's to find accommodation," Valcke says.
"It's more of a challenge for a fan to come to the World Cup in South Africa than when it's taking place in Europe, where don't forget you have 13 teams. It's a large number of people we are talking about who are coming from Europe."
However, thousands of foreigners have already bought their tickets. The hosts have bought the most at 962,068 tickets followed by American fans (134,048), then the British (99,518), Australians (43,095) and Germans (39,494).
Getting fans to South Africa has been one challenge. Getting them to the various venues around the country is another.
Transport worries
While its public transport plans may look good on paper, many people are worried about just how efficient they will be during the tournament.
Already taxi drivers who ferry majority of the population around every day are unhappy about a bus system that is being introduced ahead of the month-long tournament, which kicks off on June 11.
Some have threatened to sabotage the rapid transit bus system during the World Cup because they believe it is going to destroy their industry. There have been at least two attacks on these buses so far.
Despite these obstacles, FIFA president Sepp Blatter, who has for years campaigned for an African World Cup, is celebrating the achievement of a long-time dream.
"I am very happy and very proud that this love story is now becoming a real wedding party," he told journalists when South Africa marked 100 days to kick-off earlier this month.
Six years ago, Blatter opened the white envelope that revealed the hosts of the 2010 event. Now it's just a matter of days before South Africa either silences its critics or confirms the doubts that have lingered since that day in May 2004.
Africa would no doubt want its naysayers silenced.