South Africa's stadiums ready for World Cup, insists chief Jordaan
STORY HIGHLIGHTS
South Africa's chief World Cup organizer dismisses fears that stadiums will not be ready
Outside areas of new Soccer City venue in Johannesburg still being worked on
Mbombela Stadium in Nelspruit still does not have a pitch due to problems growing grass
Organizing committee CEO Danny Jordaan says stadiums will be ready by June 11
(CNN) -- South Africa's chief World Cup organizer has dismissed fears that the stadiums for football's showpiece tournament will not be ready in time for kick-off on June 11.
With less than 100 days before the hosts take on Mexico in Johannesburg in the opening match, the outer areas of the new Soccer City venue still resembled a building site when the countdown was marked on Tuesday.
The city's officials have confirmed that the stadium, which will also stage the final, has cost almost 50 percent -- or about $290 million -- more than initially budgeted.
There are also concerns over Mbombela Stadium in Nelspruit, which still does not have a pitch due to problems with growing suitable grass.
Have your say on the World Cup. Click here to become a CNN Super Fan.
But the chief executive of South Africa's organizing committee, Danny Jordaan, told CNN that such fears were unjustified and that the 10 venues are more or less in order.

Video: 100 days to World Cup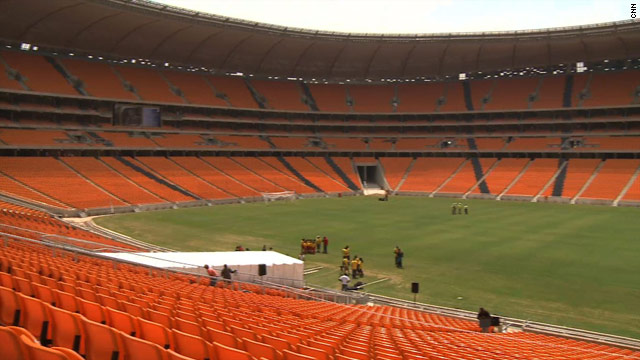 Gallery: World Cup stadiums
"The reality is that all the stadiums are ready," the 58-year-old said. "In relation to Soccer City, we could play that match today.
"What we are doing is the beautification of the precinct area of the stadium, and that's something else.
"As far as pitch replacement, that happens all the time. In fact, with most of our stadiums we have a complete replacement pitch outside of the stadium, and as the event goes along you'll always have to deal with damaged parts of the pitches and you have to replace it.
"In this case everything will be in order. By April, I think it will all be done."
He was confident that the supporters of the 32 qualified nations, some of whom will travel from the other side of the world, will arrive to find the infrastructure up to standard.
"The reality is that South Africa is a long-haul destination. For the fans of Chile to support the team in South Africa, they need three flights to get here," Jordaan said.
"In the case of Chile and Mexico, it's very cumbersome to get here, but those are the matters we have to deal with."