Woman in Favre texting controversy meets with NFL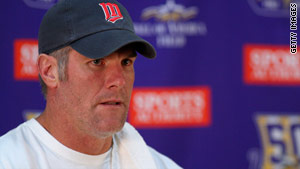 NFL player Brett Favre is accused of sending explicit pictures to a woman in 2008.
STORY HIGHLIGHTS
A former Jets sideline hostess met with NFL investigators over Brett Favre sexting claims
The claims date from 2008, when Favre and Jenn Sterger both worked for the Jets
(CNN) -- A woman who may have received sexually explicit photographs and messages from NFL quarterback Brett Favre met with the league for the first time Thursday, her manager said.
"We can confirm that a meeting took place with the NFL today and we cooperated fully by providing them with substantial materials in our possession," said Jenn Sterger's New York-based manager, Phil Reese.
Reese didn't elaborate on the nature of the evidence they brought to the league.
In August, sports website Deadspin.com published explicit photographs, text and voice messages allegedly sent by Favre to Sterger when both worked for the New York Jets in 2008.
CNN has not independently confirmed whether the voice heard in the recordings belonged to Favre, or whether the notes were sent by him.
NFL investigators met with Favre last month, according to SI.com.
Sterger is a model and former television host who was working as a sideline personality for the Jets when Favre was the quarterback there.
Favre, who is now quarterback of the Minnesota Vikings, has refused to discuss the allegations.
Favre played most of his career with the Green Bay Packers, leading the team to a Super Bowl title in 1997. He was traded to the Jets after the 2007 season.