Two jockeys brawl after Breeders' Cup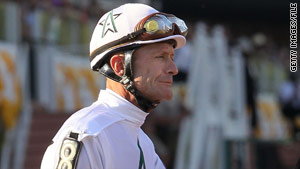 Calvin Borel (shown at this year's Preakness) was involved in a fight with fellow jockey Javier Castellano.
STORY HIGHLIGHTS
Two jockeys lose tempers at Breeders' Cup
Former Kentucky Derby winner had to restrained during the incident
Race stewards may issue penalties Sunday for the altercation
Read more coverage from CNN affiliate WAVE.
(CNN) -- Friday's fisticuffs between two jockeys at a famous racing event resulted from the horse track version of road rage.
Three-time Kentucky Derby winner Calvin Borel, unhappy about an abrupt midrace move at the Breeders' Cup Marathon at Churchill Downs, approached Javier Castellano and put his finger in his face.
Castellano appeared to throw the first punch and the two tangled briefly in the winner's circle before a shocked crowd. Borel was livid as he yelled at Castellano, even after the pair were separated. Borel later apologized for the incident.
"I've never seen that before in my life," Breeders' Cup worker James Rutledge told CNN affiliate WAVE in Louisville, Kentucky.
It was a surreal scene just a few yards from where race winner Eldaafer, a 5-year-old gelding, was enjoying his moment.
Race stewards met Saturday with the pair and another rider, Martin Garcia, who nearly tumbled after Castellano appeared to cut off Garcia and Borel during the race.
"We reviewed the films and listened to their explanation on what occurred during the running of the race," steward John Veitch said in a statement.
Officials will write a formal ruling Sunday on any appropriate penalties, he said. Sanctions range from a warning to a suspension, WAVE said.
Castellano, who finished second in Friday's race, and Borel said they have refused a formal hearing November 13, Veitch added. Both were allowed to ride in other races Saturday.
In an interview with ESPN, Borel said he and Castellano had patched things up.
"It's over. It's all good," Borel said.
FOLLOW THIS TOPIC