U.S. swimmer dies during event in United Arab Emirates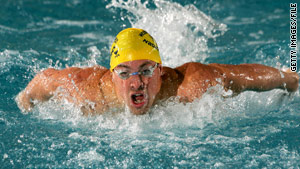 An investigation is under way in the death of U.S. swimmer Fran Crippen, pictured in January 2007.
STORY HIGHLIGHTS
Fran Crippen, 26, dies during last leg of 10-kilometer open-water race
Crippen fell unconscious and was found two hours later, a magazine reports
Cause of Crippen's death under investigation, International Swimming Federation says
(CNN) -- A 26-year-old member of the U.S. national swimming team died Saturday during an open-water race in the United Arab Emirates, according to event officials.
Fran Crippen died during the last leg of the 10-kilometer Marathon Swimming World Cup in Fujairah, said the International Swimming Federation, or FINA.
The cause of death is under investigation, FINA said. Swimming World magazine reported that Crippen fell unconscious during the event and was found by deep-sea divers two hours later near the race's final buoy.
The U.S. Olympic Committee issued a statement Saturday saying it was "extremely saddened" to learn of Crippen's death.
"We send our condolences and deepest sympathies to the Crippen family as well as to our entire swimming community," the USOC statement said. "While details of this tragedy are still forthcoming, we shall keep this outstanding young athlete and his family in our thoughts and prayers."
Crippen won bronze in the 10-kilometer event at the 2009 FINA World Championships and was the gold medalist in the same event at the 2007 Pan American Games, according to USA Swimming.
Crippen of Conshohocken, Pennsylvania, was inspired to take up swimming at age 6 after watching older sister Maddy Crippen compete. Maddy Crippen was a member of the 2000 U.S. Olympic team, according to USA Swimming.
Crippen graduated in 2006 from the University of Virginia, where he was twice named Atlantic Coast Conference Swimmer of the Year.
FOLLOW THIS TOPIC