NFL reduces Roethlisberger's suspension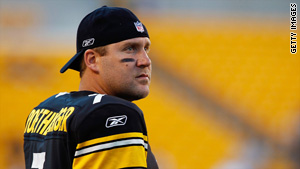 Ben Roethlisberger faced the threat of criminal charges after a 20-year-old woman accused him of sexual assault.
STORY HIGHLIGHTS
NEW: "I have learned a lot," Roethlisberger says
Roethlisberger was investigated for alleged sexual assault
He was cleared of criminal wrongdoing
The quarterback led the Steelers to two Super Bowl titles
(CNN) -- The National Football League has reduced the suspension of Pittsburgh Steelers quarterback Ben Roethlisberger from six games to four, the league said.
Roethlisberger was investigated earlier this year for allegations of sexual assault. He was cleared of criminal wrongdoing in the investigation but was initially slapped with a six-game suspension from the NFL for what the league called "detrimental conduct."
The NFL in a statement Friday said Roethlisberger's reinstatement is contingent on him "continuing to adhere to the program established by our advisors and avoiding any further violations of the Personal Conduct Policy."
"You have told me and the Steelers that you are committed to making better decisions," Commissioner Roger Goodell said in a letter to Roethlisberger, according to the statement. "Your actions over the past several months have been consistent with that promise and you must continue to honor that commitment."
The quarterback issued his own statement Friday, saying, "I have learned a lot over the past several months about myself as a person. I am committed to continuing on this path of being the type of person my family raised me to be, and exceeding what is expected of me as the quarterback of the Pittsburgh Steelers."
Roethlisberger, who led the Steelers to Super Bowl titles in 2006 and 2009, faced the threat of criminal charges after a 20-year-old woman accused him of raping her in a Milledgeville, Georgia, bar in March. The quarterback's lawyer said no sexual assault took place, and prosecutors decided in April that they could not prove that a crime had been committed.
Although prosecutors determined that no charges would be filed, the investigation showed that Roethlisberger had provided underage college students with alcohol, Goodell has said.
Along with the suspension, Goodell ordered that Roethlisberger undergo a "comprehensive behavioral evaluation by medical professionals."
The Steelers quarterback is not the only NFL player dealing with allegations of sexual assault. Seven players from the Green Bay Packers were questioned as part of an investigation into the alleged sexual assaults of two women on June 6, police said.
Six of the men were later released and are not considered suspects. A seventh man, who was not identified, was also questioned and released, but remains under investigation, according to Lake Delton, Wisconsin, Police Chief Thomas Dorner.