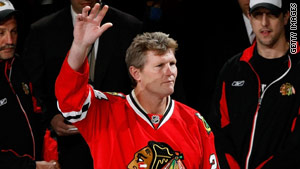 Former Blackhawks and Red Wings player Bob Probert waves before a ceremonial faceoff at a 2009 playoff game.
STORY HIGHLIGHTS
Bob Probert dies at age 45 after collapsing on a boat
Probert is considered by many hockey fight aficionados as the all-time NHL heavyweight champion
During his career, Probert made the NHL all star team once while racking up 3,300 penalty minutes
Probert had problems with drugs and alcohol, including a prison term for drug smuggling
(CNN) -- Bob Probert, considered by many hockey fight aficionados as the NHL's all-time heavyweight champion, died on Monday after collapsing in a boat, according to his father-in-law and a family friend. He was 45.
Probert was on the boat on Lake St. Clair near Windsor, Ontario, when he collapsed, and efforts to revive him failed, said Rick Rogow, a family friend.
"This was totally unexpected," said Dan Parkinson, Probert's father-in-law, who performed CPR on him. "Bob lost the fight of his life this afternoon."
A hulking left wing who also made the NHL all star team one season, Probert was best known for his ability to fight on skates.
While with the Detroit Red Wings, he joined fellow winger Joe Kocur to form the feared "Bruise Brothers" tandem. Probert later played for the Chicago Blackhawks.
His career statistics -- 163 goals, 384 points and 3,300 penalty minutes in 935 NHL games -- only tell part of the story.
The square-jawed, broad-shouldered Probert was a brawler who sometimes lost his jersey and shoulder pads in the heat of battle.
His career and fights are well-documented on websites such as hockeyfights.com, where Probert was rated by followers as the league's best fighter from 1987 through 1989, and again from January 1991 to the end of the 1993-94 season.
According to the season tallies on hockeyfights.com, Probert had at least 240 fights in the NHL.
He also had personal problems involving drugs and alcohol.
According to NHL.com, the NHL web site, Probert was suspended indefinitely by the league in 1989 after he was arrested for trying to smuggle cocaine across the Canada-U.S. border. He returned to play after serving a prison sentence.
Probert also was involved in a motorcycle accident in July 1994 and suffered minor injuries, but police determined his blood alcohol level was roughly triple the legal limit and he had traces of cocaine in his system, NHL.com reported.
The Red Wings declined to re-sign him, and Probert later joined Chicago.
"Bob was a part of our very first NHL draft class that also included Steve Yzerman, Joe Kocur, Petr Klima and Stu Grimson," Red Wings owners Mike and Marian Ilitch said in a statement, according to the team web site. "Bob was always there for his teammates and was one of the toughest men to ever play in the NHL. He also was one of the kindest, most colorful, and beloved players Detroit has ever known."
Kocur called his fellow Bruise Brother "one of the toughest players, best power forwards and all-around great guys who ever wore the Winged Wheel," the Red Wings web site said. "It was great to be able to go out on the ice knowing that he had my back and I had his."
CNN's Tom Cohen contributed to this story.
FOLLOW THIS TOPIC