Fan who sneaked into England locker room in court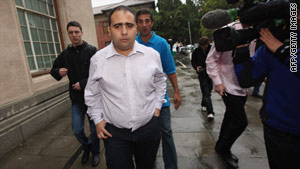 British man Pavlos Joseph speaks to reporters outside Cape Town Magistrates' Court.
STORY HIGHLIGHTS
Man arrested in World Cup security breach in court on trespassing charge
Next phase of trial coming Friday
Suspect out on bail with passport taken; ordered to not attend any games
Surveillance video helped identify suspect
Johannesburg, South Africa (CNN) -- The fan who allegedly entered the England team's locker room on Friday night, after the England-Algeria World Cup match, appeared in the Cape Town Magistrate's Court for the second time Monday, according to the National Joint Operational and Intelligence Structure.
Pavlos Joseph, 32, was ordered to return to court Friday for a plea and trial, the World Cup security coordinating body said in a news release. It said Joseph is out on bail with two conditions: his passport will stay in the possession of the South African Police Service and he may not attend any 2010 FIFA World Cup matches, pending the resolution of his trial.
Joseph was arrested Sunday morning at a Cape Town hotel following an investigation, police said in a statement. He faces a charge of trespassing.
"The South African Police Service initiated an investigation into the incident immediately after it was reported to us at a debriefing after the match," according to a police statement released Sunday. Surveillance camera video allowed authorities to identify the man and trace him to the hotel.
England's Football Association formally complained to World Cup organizers about the incident, which happened moments after Britain's Princes William and Harry had left the dressing room. No one was harmed and the fan wasn't in the dressing room for long, but Football Association spokesman Mark Whittle told CNN Saturday the security breach was "not acceptable."
A member of FIFA escorted the fan from the premises, according to police.
Security personnel, including police, will be placed within the inner perimeter of stadiums in World Cup host cities to prevent similar incidents from taking place, authorities said.
CNN's Alex Thomas and Nkepile Mabuse contributed to this report.

Part of complete coverage on

Paul the octopus, who correctly predicted the outcome of eight World Cup matches in a row, is retiring from the forecasting business.

Who's tweeting about what? Follow the World Cup trends and all the latest action from South Africa.

Are you a fanatical supporter of your national football team? Do you like to shout about your opinions? Become a CNN Super Fan!

Let your friends know where you're watching the World Cup, and earn CNN badges while you're having fun.


Most popular stories right now