MLB may expand instant replay use after blown call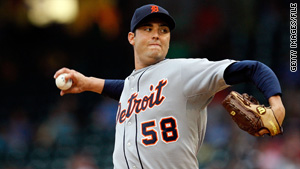 Michigan's governor has proclaimed that Detroit's Armando Galarraga did pitch a perfect game.
STORY HIGHLIGHTS
MLB Commissioner Bud Selig says he will consider expanding the use of instant replay
Selig's decision comes after a blown call denying Detroit's Armando Galarraga a perfect game
Selig says he will consult with baseball's unions, general managers, and club owners, among others
Galarraga's perfect game would have been the 21st in MLB history
(CNN) -- There's no crying in baseball, but Detroit pitcher Armando Galarraga may have felt like shedding a tear at the end of Wednesday night's game between the Tigers and the Cleveland Indians.
Galarraga was one out away from a rare perfect game -- nine innings pitched without allowing anyone to reach base -- when veteran umpire Jim Joyce incorrectly ruled the Indians' Jason Donald safe at first on an infield single. A despondent Joyce later admitted he had blown the call. The Tigers still won the game, but Galarraga lost his chance for a unique place in baseball history.
End of story? Maybe not.
Major League Baseball Commissioner Bud Selig said Thursday that, as a consequence of Joyce's call, he is going to consider expanding the use of instant replay. Right now, the big leagues only use the instant replay if there's a boundary dispute on a home run.
"There is no dispute that last night's game should have ended differently," Selig said in a written statement. "While the human element has always been an integral part of baseball, it is vital that mistakes on the field be addressed. Given last night's call and other recent events, I will examine our umpiring system, the expanded use of instant replay and all other related features."

Video: Umpire: Bad calls 'just part of game'
Selig said that before he announces any decisions, he will consult with "all appropriate parties," including the baseball unions, general managers, and club owners.
As for peeved Tigers fans, they're taking matters into their own hands. Michigan Gov. Jennifer Granholm issued a proclamation Thursday declaring Galarraga to have pitched a perfect game.
"I join Tigers fans all across the globe in saluting his unassailable accomplishment -- the first perfect game in Tigers history," the proclamation said.
The official record books, however, still show only 20 perfect games in Major League Baseball history. Galarraga's would have been the 21st.
FOLLOW THIS TOPIC