NFL draft goes prime time on Thursday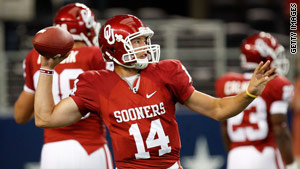 Oklahoma QB Sam Bradford is widely expected to be the No. 1 in the NFL Draft.
STORY HIGHLIGHTS
NFL draft kicks off in prime time Thursday

Rounds 2 and 3 will be held Friday; Rounds 4 through 7 to be held Saturday

Oklahoma QB Sam Bradford likely to be No. 1 overall pick

(CNN) -- For the first time, the National Football League will hold its draft in the evening, giving football junkies the chance to watch 300-pound young men become millionaires in prime time.
The nationally televised, three-day event begins Thursday at 7:30 p.m. at Radio City Music Hall in New York City. The 75-year-old event usually begins on the weekend, but this year, the draft will compete with "Survivor," "FlashForward," and "Bones" for ratings.
NFL commissioner Roger Goodell has said that the move will allow more fans to watch the draft.
"We continue to look for ways to make the draft more accessible to more fans," Goodell said. "Moving the first round to prime time on Thursday night will make the first round of the draft available to fans on what is typically the most-watched night of television."
Barring any trades, the St. Louis Rams will select first, followed by the Detroit Lions and the Tampa Bay Buccaneers.
Follow Peter King's mock draft
The event also gives the NFL a chance to move away from the daily headlines about sexual assault allegations against star quarterback Ben Roethlisberger.
On Wednesday, Goodell slapped the Pittsburgh Steelers star with a six-game suspension for "conduct detrimental to the NFL."
Roethlisberger, who led the Steelers to Super Bowl titles in 2006 and 2009, faced the threat of criminal charges after a woman accused him of sexual assault in a Milledgeville, Georgia, bar in March. The quarterback had dominated headlines recently even after authorities said they did not have enough evidence to charge him.
New quarterbacks are expected to emerge in the spotlight Thursday night.
Oklahoma Sooners quarterback Sam Bradford has been named top pick on many of the experts' mock drafts. Bradford, along with quarterbacks Jimmy Clausen and Colt McCoy, could hear their names called Thursday.
However, Florida quarterback Tim Tebow will not be at the event electing to watch the results from his home in Jacksonville, Florida, the NFL Network reported.
Though Tebow led the Gators to two national championship victories and has won the Heisman Trophy, it has been widely debated about whether he will be chosen in the first round of the draft.
The NFL will hold the first round of the draft Thursday, with the second and third rounds conducted on Friday. Rounds 4 through 7 will be held on Saturday.