Olympic-caliber gear coming out of Vancouver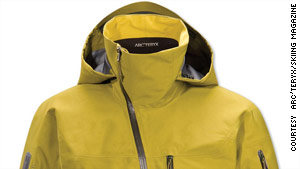 Companies like Arc'teryx are turning out top gear.
STORY HIGHLIGHTS
Vancouver-based brands turning out top-notch gear

Proximity to outdoor venues part of success

Culture of city contributes to creativity

(Skiing Magazine) -- When it comes to ski-equipment meccas, there's Park City, Utah; Boulder, Colorado; and, Vancouver, Canada. Home to Arc'teryx, Westcomb, and Prior, these Vancouver-based brands are leading the charge in innovative gear technology and design.
Take Arc'teryx, a local company that got its start in 1991 making rock-climbing harnesses, and has since evolved into an industry leader turning out stellar outdoor apparel, equipment, and accessories year after year. "Our brand was born and raised and is still growing its roots in Vancouver," explains Arc'teryx CEO Tyler Jordan.
"We rely on our local contacts, a group of hardcore athletes, and our employees -- we're all gear junkies -- to give immediate feedback to help us grow and develop the brand."
Using state-of-the-art materials, construction methods, and a style-y aesthetic, Arc'teryx appeals equally to hardcore skiers as to mainstream mountain lovers. In fact, Arc'teryx's gear is so good, some of Vancouver's police are now outfitted in the brand's LEAF (Law Enforcement Armed Forces) line. And with two full-time colorists on staff, the brand has revolutionized the world of color in ski apparel. Gone are the days of black, yellow, and red jackets à la North Face 1995; in are outer shells splashed with shades like Big Sky blue and Bud green.
It's not just the city's proximity to the outdoors that influences local gear companies; it's also Vancouver's thriving cosmopolitanism, fashion scene, and underground culture. Alan Yiu, CEO and creative director of Westcomb, a local ski apparel brand, just looks to his city for ideas.
"I look at architecture and buildings. Anything that makes me stop in my tracks and wonder what the process was to create it is a source of inspiration to me." And Westcomb's vibe reflects Yiu's -- and Vancouver's -- modern sensibility: funky, fresh, and sleek.
Skiing Magazine: Why you should care about the Olympics
Vancouver is also home to award-winning "microbrew" ski and snowboard manufacturer Prior. What started in 1990 with founder Chris Prior making snowboards in his North Vancouver garage has turned into one of the world's top producers of handcrafted snow equipment.
Skiing Magazine: Why you should care about the Olympics (counter-argument)
In 2000 Prior moved its factory to Whistler, and having one of North America's premiere resorts in its backyard translates into primo powder skis and boards made for big-mountain ripping. Want to build the ski of your dreams? Prior can customize tricked-out features, graphics, and top sheets. A tour of the factory in Whistler makes for a killer off-piste adventure. However, if the snow is good, you may find the place empty.
Though it's doubtful the IOC had local gear companies in mind when it picked Vancouver to host the 2010 Winter Games, it's no coincidence that the city claims Olympic-caliber gear as its own.
© 2010 Skiing Magazine. All rights reserved. Reproduction in whole or in part without permission is prohibited.

Part of complete coverage on

With the Winter Games set to close Sunday night, you can almost hear the Canadian officials saying, "We told you everything would work out."

Even before competition began, the Games faced criticism over weather and a fatal crash. The accidents, mistakes and embarrassments kept coming.

Tom de la Hunty took Dutch bobsledder Edwin van Calker to the track one last time Tuesday and asked his driver if he could do it.

Get the latest results from the Games and check out the schedule to see when your favorite sport will be played

More than 2,600 athletes from 82 countries are expected to participate in the Games. See which countries are winning medals and how many athletes they sent to Vancouver.

Send us your videos and photos of Olympic excitement from around the world, and let us know how you are following the action.


Most popular stories right now