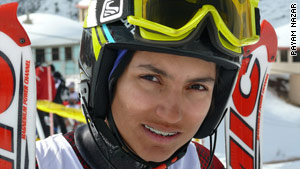 Despite politicial turmoil in Iran, Marjan Kalhor says she remains focused on training for the Winter Olympics.
STORY HIGHLIGHTS
Iran female skier hits slopes for Olympic gold, history

Marjan Kalhor will be nation's flag-bearer during opening ceremonies

Kalhor says she will wear aerodynamic uniform, yet observe Islamic dress code

(CNN) -- Marjan Kalhor is already a champion, even though the Olympic flame has yet to blaze in Vancouver, Canada.
Her dream has come true, even without a podium finish.
"I always asked my brother, 'Why can't a woman compete in the Winter Olympics?'" Kalhor said, remembering watching the 2006 Winter Olympics in Turin, Italy. "Since Turin, I've told myself that if Iran allows women to compete in the next Olympics, I have to be the first."
And, despite the odds, she is. For the lifelong skier, the absence of Iranian women on the country's delegation was glaring.
Kalhor, who comes from a family of avid skiers, has braved the slopes of Dizin, in the Alborz mountain range north of Tehran, since age 4. In a couple of weeks, she will take the international stage competing in the Alpine slalom and giant slalom.
As the first Iranian woman in Winter Olympics history, the 21-year-old will head a four-member Iranian team that will be the only one from the Middle East. The three other Iranian athletes, all male, are Poria Saveh Shemshak, Hossein Saveh Shemshak and Seyed Sattar Seyd.
Iran has sent male athletes to the Winter Games nine times since 1956, but none has returned home with medals.
For Kalhor, who trains under her brother Rostam Kalhor, head coach for Team Iran, qualifying for the Olympics is the ultimate achievement after years of focus and dedication to her sport.
For Iran, allowing a woman to compete in the Winter Games is a bright moment for a nation embroiled in political protests, human rights violations and controversy over its nuclear program.
Iran has allowed women to compete in international athletics at snail's pace, first with shooter Lita Fariman at the 1996 Summer Olympics, before conceding spots on its summer delegation to women competing in rowing, archery and taekwondo -- all sports that women can participate with the mandatory Islamic dress code.
Those few allowances have pushed some women who practice in other events, such as gymnastics and swimming, to switch sports in hopes of reaching the Olympics within government rules.

Video: Visiting the Olympics
"Skiing is a sport where you have to be fully dressed. So there is no problem with clothes. I shall observe the Islamic dress code," said Kalhor in a telephone interview from her family's home in Dizin.
It's the kind of improvisation Iranian women have grown accustomed to over the past three decades under Islamic rule.
"When you travel to Iran, women are present, women work. You have a very active presence there," said Golbarg Bashi, who teaches Iranian studies at Rutgers University. "They can't just completely shut everything off."
For a few years, the government has toyed with the idea of allowing a woman to compete in skiing, in which aerodynamic uniforms are the norm for competitors and seemingly a no-no for Muslim women.
But this didn't stop Kalhor. Fueled by her passion for the sport, her ambitions rocketed when she won a national event at the age of just 11. By 16, Kalhor had won bronze at a competition in Turkey, and two years later, she took home gold in slalom and silver in giant at a Lebanese event.
While she will stand shoulder-to-shoulder with the world's best athletes in Vancouver, the rules of Kalhor's homeland will be ever-present. Off the slopes, she is expected to observe the Islamic dress code, or hijab, but on the slopes, she will compete in the aerodynamic ski suit and helmet worn by her Western rivals.
"This historic event is also a great moment of pride for the sport of skiing and the Islamic Republic of Iran to see an Islamic woman reach these ranks," said Issa Saveh Shemshaki, chairman of Iran's Ski Federation.
Still, hardline President Mahmoud Ahmadinejad, whose second-term win was the source of so much unrest in recent months, was forced to back down from an initiative early in his first term to encourage female participation in sport because of criticism from the country's religious leaders. One mullah reportedly last year said that women should not ski because the movement of their knees looked "more like dancing than sport."
Iran announced last March that it would send a woman to the Winter Olympics, but observers say Kalhor's Vancouver debut couldn't come at a better time.
"This is a move I think that Iran is and could be using to offset the bad coverage with other issues," said Pantea Beigi, a native of Iran and human rights expert with Colorado-based PeaceJam, focusing on youth movements.
Since the summer, as Kalhor spent hour-after-hour perfecting her slalom technique in the snow drifts of the mountains, hundreds of thousands of protesters took to the streets of Iran, demonstrating against the nation's hardline government.
Waking up at dawn each morning to hit the slopes, she remained dedicated to her training -- despite the disturbing images of protest violence broadcast across the world.
Opposition leaders have slammed Ahmadinejad, who was declared the overwhelming winner of the disputed June 12 presidential elections, as a dictator and tyrant. And, despite the government's harsh warnings that it will continue its brutal crackdowns on demonstrations, the protesters refuse to back down.
Tensions have mounted after a coalition of Iranian reformist groups urged opponents of the regime to stage non-violent protests on the anniversary of the Islamic Revolution next week. The Council for Coordinating the Reforms Front wants people to march "with their green colors" in support of the opposition Green Movement on February 11.
The next day, the fresh-faced Marjan Kalhor will attend the opening ceremonies of the Vancouver games, as her nation's flag-bearer. For Team Iran, it will be an experience of a lifetime. But is it just strategy for Iran? Some say yes.
"This very story may serve to exemplify to the people of Iran the fact that Iran is not as isolated as foreign and internal enemies would have one believe," said Daniel Tsadik, assistant professor of Sephardic and Iranian Studies at New York's Yeshiva University. "Using this tactic, they hope to get across the message that their leadership therefore should be trusted and followed.
Kalhor says she doesn't dwell on the political turmoil that's infected her homeland -- "I'm so focused on my skiing" -- but her Olympic experience is sure to be a study in dichotomy.
While banners of Kalhor are scattered all over Tehran, it's a toss-up whether Iran will even broadcast the Olympics. In the past, the government has blocked its viewers away from the Summer Games, even as it sent its first female Olympians to the 1996 Games in Atlanta.
"It's a paradox," said Bashi. "But one should not take away the significance of her achievement. This is a young woman whose worked hard all her life, deserves to be part of the Olympics.
Kalhor, who finished 60th in the giant slalom at the 2009 World Championships in Val d'Isere, France, has no hopes of placing at the Games. "My chances of getting a medal are zero," she said. Her message, as a devout Muslim, goes beyond the gold.
"I'm very happy that I'm going to compete, and something I'm very proud of is that I am attending the games as a Muslim Iranian," she said. "I can show the world that we Iranians have something to say -- whatever you want, you will achieve."
After the Olympics, Kalhor, who is studying to become a physical education teacher, wants to qualify for the Asian Winter Games in Kazakhstan in 2011 and is already dreaming of the Olympics in Sochi, Russia, in 2014.