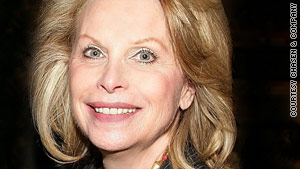 Ronni Chasen, 64, died from gunshots fired into her Mercedes-Benz.
STORY HIGHLIGHTS
A leaked coroner's report estimates 4 shots were fired from another vehicle
Ronni Chasen's wounds were to her chest and shoulders, the document says
The full autopsy is expected to be released next week
Los Angeles, California (CNN) -- Hollywood publicist Ronni Chasen's killer fired at least four shots into her car, including at least one hollow-point bullet, in last week's Beverly Hills attack, according to a leaked coroner's report.
Although the three-page report has not been made public, Los Angeles County coroner spokesman Brian Elias confirmed to CNN that a document shown in a local newscast appeared to be authentic.
The document was written by investigators on the first day of the investigation to help the doctor who would perform the autopsy the next day, Elias said. The full autopsy report is expected to be released next week, he said.
Chasen, 64, died from gunshots fired into her Mercedes-Benz as she turned off Sunset Boulevard on her way home from a star-studded premiere celebration for the movie "Burlesque" in the early morning of November 16.
The mysterious murder in a posh Beverly Hills neighborhood not only stunned her friends, but also sent fear through the exclusive community.
"One bullet was recovered from her back while at the hospital and is possibly from a 9 mm hollow point," according to the document shown on Los Angeles television station KTTV.
Hollow-point bullets are controversial because the slug is designed to expand after it enters a body, causing greater damage to tissue than a solid bullet.
The report included details previously disclosed by police, including the belief Chasen was shot while she was stopped at a red light at the intersection of Sunset Boulevard and Whittier Drive. "An unknown vehicle pulled up and someone fired approximately four rounds into her vehicle," it said.
"After being struck by gunfire ... she then made a left turn and drove for approximately a quarter mile before she crashed her car into a pole," the report said.
Chasen was pronounced dead at Cedars-Sinai hospital 45 minutes after the shooting, the report said.
Details about how many shots hit Chasen and where they entered will not be known until the autopsy report is released, likely next week, Elias said.
The initial examination, apparently done at the hospital soon after Chasen's death, revealed three gunshot wounds to her chest area, the report said.
At least three other wounds were found on her right shoulder and upper back, the report said. But it was not indicated if those were where the bullets might have exited the body.
The report also confirmed that investigators found no shell casings at the scene and only the passenger side window and passenger seat were damaged by the gunfire.
The lack of official information about the investigation has spurred speculation by residents and reporters about the killing.
Beverly Hills Police Chief David Snowden asked journalists a week ago to keep "erroneous information, theories or speculation" out of their stories. The chief assured residents that it was "a rare, isolated incident and that the Beverly Hills community remains one of the safest in the nation."
There is no prevailing theory on whether the attack was road rage or a planned hit, a police official said. No motive or suspects have been identified, he said.
Beverly Hills detectives scanned Chasen's computers and phone logs for leads and went door to door for video clues from residential security cameras, a police spokesman said.
Chasen had been on the red carpet at Grauman's Chinese Theatre just hours earlier, walking with songwriter Diane Warren as she and "Burlesque" star Cher were interviewed about the music in the film.
Warren, who contributed the song "You Haven't Seen the Last of Me" to the movie's soundtrack, said Chasen also went with her to the after-party at Hollywood's W Hotel.
Warren, who wrote Toni Braxton's tearful ballad "Un-Break My Heart," said she was "devastated beyond belief."
"This was a nice woman," Warren said. "Everybody loved Ronni. She was the best at what she did."
Chasen's work for three decades earned her a reputation as a publicist who could help create Oscar buzz for clients, which many times ended with Academy Awards.
FOLLOW THIS TOPIC