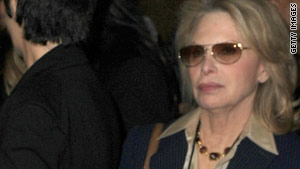 Publicist Ronni Chasen attended the premiere of the movie "Burlesque" on Monday night. She was later gunned down.
STORY HIGHLIGHTS
Detectives are searching computers and phone logs for clues to the shooting
Sunset Boulevard home security cameras may offer clues, police say
Ronni Chasen left a message on her office voice mail minutes before dying
Chasen was longtime publicist to the stars
Los Angeles, California (CNN) -- Beverly Hills detectives are scanning Ronni Chasen's computers and phone logs for leads to the person who gunned the publicist down early Tuesday after a Hollywood movie premiere.
Chasen's shooting death, in the middle of a posh Sunset Boulevard residential area, stunned the publicists and celebrities who worked with the 64-year-old public relations veteran.
With few clues about motive and no suspect, the homicide investigation is "wide open," Beverly Hills Police Sgt. Lincoln Hoshino said.
The attack happened just minutes after Chasen left a star-studded party celebrating the premiere of the movie "Burlesque," police said.
"We were all on such a high," songwriter Diane Warren said. "And then she left -- I'm guessing about 10 minutes before I did. What on earth? What happened? Why?"
Warren, who was Chasen's client, called the killing senseless.
"They didn't steal anything," she said. "Her purse was still there."

Hollywood publicist killed

No motive, suspects in publicist's death

Hollywood publicist shot and killed
Chasen died after "multiple shots" were fired into her Mercedes, seconds after she drove past the Beverly Hills Hotel on her way home, according to Hoshino.
Police found her car crashed into a light pole after responding to a report of gunfire near Sunset and Whittier Drive at 12:20 a.m., he said.
Chasen died later at Cedars-Sinai Hospital, according to Lt. Fred Corral, a spokesman for the Los Angeles County coroner.
"Quite a few residents" along the Beverly Hills stretch of Sunset have security cameras, Hoshino said. Detectives are asking to look at homeowners' video in hopes of finding out whether a car was following Chasen through the neighborhood, he said.
The shots that struck Chasen were apparently fired through the passenger door window, he said. She was the lone occupant of the car.
Chasen left a voice mail at her office just minutes before the shooting, police said, indicating she was not aware of anything going on out of the ordinary.
Chasen had been on the red carpet at Grauman's Chinese Theatre, walking with Warren as she and "Burlesque" star Cher were interviewed about the music in the film.
Warren, who contributed the song "You Haven't Seen the Last Of Me" to the movie's soundtrack, said Chasen also went with her to the after-party at Hollywood's W Hotel.
Warren, who wrote Toni Braxton's tearful ballad "Un-Break My Heart," said she was "devastated beyond belief."
"This was a nice woman," Warren said. "Everybody loved Ronni. She was the best at what she did. A great person. She worked her butt off all night, then goes home and someone does this to her. I'm angry, whoever did this."
Michael Levine, head of Levine Communications Office, called Chasen a "beloved, iconic figure."
Levine, who said he has known Chasen for 25 years, has started a reward fund with a goal of raising $25,000 by next week.
"We must do everything possible to assist the Beverly Hills police in solving this horrific crime," Levine said. "Ronni gave the utmost for her clients and this industry."
Hollywood celebrity public relations is "like a small family," said Edward Lozzi, who operates a small Beverly Hills firm.
Chasen was a "class act" and "the ultimate professional," Lozzi said.
Chasen was "so good promoting great films" and had special talent for creating pre-Oscar buzz for her acting clients, publicist Steve Jaffe said.
CNN's Denise Quan contributed to this report.
FOLLOW THIS TOPIC