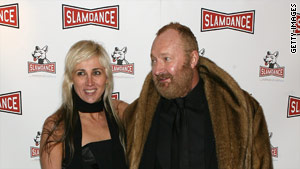 Randy Quaid, right, and wife Evi, are seeking assylum in Canada, according to their lawyer.
STORY HIGHLIGHTS
Troubled actor Randy Quaid and his wife are contesting their extradition from Canada
They are wanted in California on burglary charges
It has been a year of legal woes for the couple
(CNN) -- It sounds like a plot out of an upcoming Halloween horror movie, but for troubled actor Randy Quaid and his wife, Evi, their fear of "Hollywood star whackers" is real.
The couple, facing burglary charges in Santa Barbara, California, stemming from a September incident, are seeking asylum in Canada, where they were arrested last week, Randy Quaid's attorney, Robert M. Sanger, told CNN on Sunday.
"The Quaids are contesting their extradition in Vancouver and, if the matter is returned to Santa Barbara, we will address the issues in court," Sanger said.
Outside their immigration hearing in a Vancouver court on Friday, their local attorney held up a handwritten note from the Quaids, which read: "Yes we are requesting asylum from Hollywood 'star whackers.'"
As the Quaids were entering the hearing, they briefly addressed reporters about their fears.
"Canada is a very protective nation," Randy Quaid said.
"Hollywood is murdering its movie stars for ad sales. ... We want asylum from the murderous people in Hollywood. Accountants and lawyers -- embezzlers," Evi Quaid said, adding that "Heath Ledger was murdered."
Ledger, a co-star of Randy Quaid's in 2005's "Brokeback Mountain," died in 2008 of an apparent drug overdose.
When asked whether they had drug and alcohol problems, both Quaids responded, "No."
A California judge issued a bench warrant October 18 for the couple's arrest after they failed to appear for a court hearing related to their September arrest.
The Quaids were due in court on burglary charges after police were called to a Montecito, California, residence to investigate a report of squatters. A new court date has been scheduled for Tuesday.

Video: Quaids: Hollywood out to kill us
A representative for the owner of the property came by the house to check the security alarm because it had gone off earlier that day and then discovered that someone was living in the property's guesthouse, according to the Santa Barbara County Sheriff's Department.
The Quaids weren't around at the time, but upon their return later that evening the couple told police that they have "owned the property since the 1990s," a statement from the sheriff's department said. The owners had documentation that another buyer had purchased the property from the Quaids several years earlier, according to the statement.
A contractor who worked on the residence told police he believes the couple caused more than $5,000 in damages in the guesthouse, and the Quaids were charged with residential burglary.
Their September arrest comes amid a year of troubles for the couple. Earlier this year, the Quaids were both facing felony charges of defrauding an innkeeper and skipping out on a $10,000 hotel bill in Santa Barbara, California, in September 2009. The felony charges were dropped in April after Evi Quaid accepted a plea deal in the case. She was sentenced to three years of probation and 240 hours of community service.
Randy Quaid, 60, is known for his roles in several films, including the "National Lampoon" movies, "Kingpin" and "Brokeback Mountain." He was nominated for an Academy Award for his supporting role in 1973's "The Last Detail." His younger brother is actor Dennis Quaid.
FOLLOW THIS TOPIC