Paris Hilton to avoid jail with Las Vegas plea deal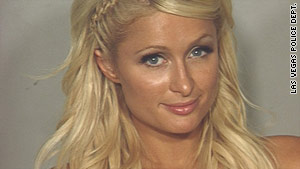 Paris Hilton was arrested in Las Vegas, Nevada, last month and charged with cocaine possession.
STORY HIGHLIGHTS
NEW: District Attorney Roger confirmed plea deal details to CNN
Hilton's deal would place her on probation for a year
She is set to appear in a Las Vegas court Monday
Paris Hilton was arrested for cocaine possession in August
For the latest news on Paris Hilton, watch HLN's "Showbiz Tonight" live at 11am ET on Monday.
(CNN) -- Paris Hilton will face a Las Vegas, Nevada, judge Monday morning to accept a plea deal in her cocaine possession case, the prosecutor and a source close to the defense said.
As first reported by the Las Vegas Review-Journal, Hilton will avoid jail for last month's cocaine arrest on the Las Vegas strip.
The socialite-actress will enter guilty pleas on two misdemeanor counts, instead of a felony drug charge, the Las Vegas Review-Journal reported.
Clark County, Nevada, District Attorney David Roger and a defense source, who asked not to be identified, both confirmed the agreement to CNN on Sunday.
Hilton, 29, will get two six-month jail terms, which would be suspended, according to the agreement, the paper reported. She would serve one year on probation, it said.
The newspaper quoted Roger saying the plea deal "would give us complete control over her future."

Video: The night Paris Hilton was arrested
"If she does not toe the line and stay out of trouble, she will do one year in the Clark County Detention Center," Roger told the paper.
Hilton was arrested after a traffic stop on the Las Vegas strip on August 27. A motorcycle officer reported smelling the odor of marijuana coming from the Cadillac Escalade driven by her boyfriend, Cy Waits.
A small plastic bag of cocaine fell out of a purse she was holding and into the hand of a police lieutenant while Hilton was being questioned, according to the police report.
The original felony charge of cocaine possession will be dropped, but Hilton will plead guilty to misdemeanor drug possession and obstructing an officer, according to the report.
FOLLOW THIS TOPIC