Prosecutors get evidence in Mel Gibson domestic violence probe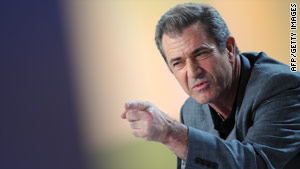 Police in Malibu Hills, California, opened a domestic violence investigation into Mel Gibson in July.
STORY HIGHLIGHTS
Sheriff's investigators presented their evidence concerning Gibson Wednesday
The evidence in the probe of Oksana Grigorieva has not been presented
Gibson and Grigorieva are in a bitter child custody dispute
Los Angeles, California (CNN) -- Prosecutors are considering whether to bring charges against Mel Gibson in connection with a domestic violence investigation, the Los Angeles district attorney's spokeswoman said Wednesday.
Los Angeles sheriff's investigators presented their evidence to prosecutors Wednesday afternoon, said Sandi Gibbons.
"They brought us one-half of the investigation and that half involved the investigation of Mel Gibson," Gibbons said. "They are also investigating the actions of Mr. Gibson's girlfriend. That has not been presented."
Police in Malibu Hills, California, opened the investigation earlier in July into an alleged domestic violence incident between Gibson and Oksana Grigorieva.
Grigorieva has accused Gibson of striking her in the face, while he alleges that she attempted to extort him to keep controversial recordings of their arguments secret.
Phone calls recorded by Grigorieva are "part of the investigation" into the alleged domestic violence," sheriff's spokesman Steve Whitmore said last month. Several explosive audio recordings, purportedly between Grigorieva and Gibson, were released online in the past month.
Gibson and Grigorieva are involved in a bitter child custody dispute over their 8-month-old daughter.
FOLLOW THIS TOPIC