Federal agents: Celebrity 'skin artist' was a scam artist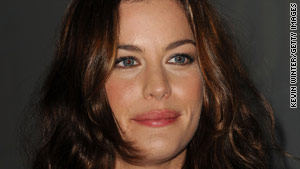 Actress Liv Tyler suffered $214,000 in fraudulent charges, authorities said.
STORY HIGHLIGHTS
NEW: Actress Liv Tyler was allegedly taken for $214,000
Feds say other victims include Cher, Jennifer Aniston, Melanie Griffith
Gabriella Perez arrested without incident Wednesday afternoon
Beverly Hills spa touts itself as a "temple of beauty" on its website
Los Angeles, California (CNN) -- The woman who Jennifer Aniston, Cher, Melanie Griffith and other stars have trusted with their skin allegedly couldn't be trusted with their credit cards, according to federal authorities.
Federal agents arrested Beverly Hills spa owner Gabriella Perez on charges of using her celebrity clients' credit card information to make fraudulent purchases totaling at least $280,000, according to the U.S. Attorney's office in Los Angeles.
Perez, who described herself as a "skin artist" on her business website, was arrested without incident Wednesday afternoon, the prosecutor's office said.
Chez Gabriela Studio is "the temple of beauty" for Beverly Hills, its website said.
"Gabriela is my favorite ass kicking facialist," the website quoted Cher saying. "She is the Michelangelo of skin care!"
The criminal complaint named actress Liv Tyler as a major victim, with $214,000 in allegedly fraudulent charges made by Perez on her American Express card last year.
High-end jewelry designer Loree Rodkin was the first client to alert federal investigators, the complaint said.
The complaint alleges Perez "fraudulently charged numerous times on her (Rodkin's) Visa credit card from the studio."
When Rodkin's lawyer tried to resolve the charges with Perez, she allegedly offered her $25,000 in services in exchange for the $68,000 in allegedly fraudulent charges, the complaint said.
The list of victims, based on information given to investigators by Rodkin's lawyer, included Cher, Aniston, Tyler, Griffith, Anne Hathaway and Scott Speedman, the complaint said.
The spa's website says its celebrity clientele also includes Halle Berry, Penelope Cruz, Amber Valletta and Mia Wasikowska.
FOLLOW THIS TOPIC