Judge quits Lindsay Lohan case after prosecutor's complaint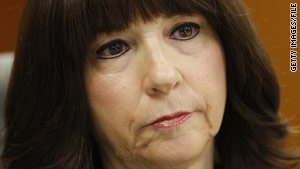 Judge Marsha Revel will no longer preside over the Lindsay Lohan case.
STORY HIGHLIGHTS
The prosecutor objected to Judge Revel's talks without telling her
Source: The defense welcomes a new judge
Revel's patience with Lohan wore thin in recent months
The change in judge may not mean a change in Lohan's case
Los Angeles, California (CNN) -- The Beverly Hills judge who sentenced Lindsay Lohan to jail and rehab last month has removed herself from the actress' case at the request of the prosecutor, the Los Angeles District Attorney's office said Wednesday.
Judge Marsha Revel has been replaced by Los Angeles County Superior Court Judge Elden Fox, according Jane Robison, a spokeswoman for the district attorney.
Prosecutor Danette Myers objected last week to several communications that Revel had with parties involved in the case without notifying the district attorney's office, Robison said.
While this is not expected to immediately affect Lohan's 90-day rehab order, a source close to the case said the defense was pleased with the change. The source asked not to be identified due to not being authorized to speak about the matter.
Revel's patience grew noticeably thin with Lohan in recent months, leading her to order the actress to wear an alcohol detection bracelet while she was awaiting a probation violation hearing.
The judge ruled last month that Lohan had violated her probation from a 2007 drunk driving conviction. She sentenced Lohan to 90 days in jail followed by 90 days in a substance rehabilitation program chosen by the court.
The actress was taken to jail immediately following the court hearing July 20, but she was released August 2 and taken to a treatment center.
CNN's Ann O'Neill contributed to this report
FOLLOW THIS TOPIC