'Idol' winner Fantasia Barrino accused of affair with married man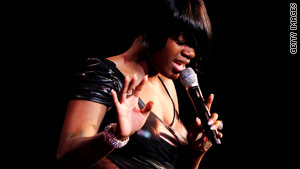 Court documents allege Fantasia Barrino had an affair with a married man and that the pair recorded their encounters.
STORY HIGHLIGHTS
A North Carolina woman says Fantasia Barrino has had a relationship with her husband
The couple are accused of recording sexual encounters, court documents say
Barrino, 26, was named "American Idol" in 2004
She declined to comment on the allegations
(CNN) -- A North Carolina woman is alleging that "American Idol" winner Fantasia Barrino engaged in an affair with her husband, and says in court documents that the pair "recorded" their sexual encounters.
Paula Cook, who separated from her husband, Antwaun Cook, in June, filed the documents -- seeking child custody, alimony and other monetary support -- Wednesday in Mecklenburg County District Court.
The documents allege Antwaun Cook began the affair with Barrino, 26, in August 2009 after the pair met at a Charlotte-area T-Mobile store where Cook is employed.
Barrino -- the 2004 winner of the popular Fox show and an eight-time Grammy nominee -- treated Cook to a lavish lifestyle over the course of their affair, flying him to Atlanta, Georgia; Miami, Florida; New York; Los Angeles, California; and Barbados, the documents allege.
The pair "have at times recorded their illicit sexual activity," according to the documents.
A month after Paula Cook separated from her husband, Barrino is alleged to have interrupted a phone conversation between the estranged couple, telling Cook, "He don't want you. Maybe the next time you get a husband you'll know how to keep him. That's why he is here with me," according to the documents.
Barrino has appeared publicly with a tattoo on her left shoulder reading "Cook," an apparent tribute to Antwaun Cook, who is said to have a similar tattoo in the same place on his shoulder, according to the documents.
The alleged affair was first reported in November by gossip magazines and websites.
Barrino and her record label Sony Music declined to comment on the documents Sunday.
Paula Cook says that as a result of the affair, her husband became more and more withdrawn from their marriage, attributing late nights and other absences to work, the documents say.
"As [Paula Cook] contemplated ways to save her marriage and family, [Antwaun Cook] and Ms. Barrino continued to enjoy their open and notorious relationship without her knowledge and/or consent," the documents say.
Paula Cook is seeking custody of her two children, ages 6 and 2, with Antwaun Cook, as well as child support, alimony, attorney's fees and ownership of the couple's former marital home.
CNN's Denise Quan contributed to this report.
FOLLOW THIS TOPIC