South African authorities detain Paris Hilton; judge drops drug charge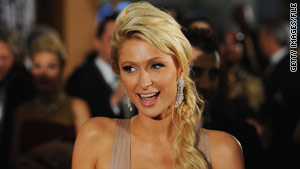 A publicist for Paris Hilton, who was in South Africa for the World Cup, says "no charges will be made" against her.
STORY HIGHLIGHTS
Hilton, photographer taken into custody at stadium
Both charged with drug possession
Charge against Hilton dropped; her photographer pleaded guilty
Publicist: It "was a complete misunderstanding"
Johannesburg, South Africa (CNN) -- A drug charge against Paris Hilton, who was detained Friday in South Africa on suspicion of marijuana possession, has been dropped, police said.
Hilton and another woman, Jennifer Rovero, were taken into custody at the Nelson Mandela Bay stadium on possession charges, police said in a statement.
The single count against the heiress was dropped after Rovero pleaded guilty to the same charge, police said. She faces a fine.
Hilton appeared calm when she appeared before a magistrate judge in Port Elizabeth, a reporter for affiliate ETV told CNN. Rovero works as a freelance photographer for Hilton, reporter Lance Witten said.
Hilton's publicist, in a statement to CNN, said the incident "was a complete misunderstanding, and it was actually another person in the group who did it."
Dawn Miller, the publicist, said Hilton was accused of smoking marijuana and said "no charges will be made" against her.
"The authorities have apologized for wrongfully accusing her since she had nothing to do with the incident," Miller said.
Miller said Hilton was in South Africa for the World Cup.
Police said they approached the two women after smelling marijuana outside the stadium where a match had been played. Hilton and Rovero were ushered into the stadium after a marijuana cigarette was tossed on the floor, police said.
They were spotted again inside the stadium, and a bodyguard handed over a second cigarette to authorities, police said.
FOLLOW THIS TOPIC