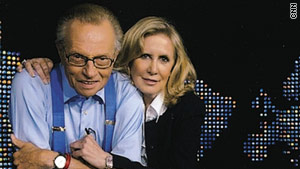 Larry King and Wendy Walker on June 30, the night King announced he was "hanging up his nightly suspenders."
STORY HIGHLIGHTS
Wendy Walker is "Larry King Live" senior executive producer
She helps land exclusive interviews with the newsmakers and celebrities
In "Producer," she shares her stories of 30 years in television
Walker explains how show reacts when breaking news disrupts planned programming
Editor's note: Wendy Walker is the senior executive producer of CNN's "Larry King Live." Her new book is "Producer: Lessons Shared from 30 Years in Television" (Center Street).
(CNN) -- Wendy Walker, the Emmy-winning senior executive producer of "Larry King Live," knows what it takes to make a great story.
Walker's book, "Producer," takes readers behind the scenes.

With anecdotes, provocative e-mails, scandals, show transcripts and insights into her long working relationship with Larry King, Walker divulges what it takes to get "Larry King Live" on the air every night while providing insightful, empowering advice to readers. Walker spoke to CNN.com about her book and her amazing career.

CNN: In the book, you discuss an average morning. Can you give us the highlights for our readers who maybe don't know what a producer does?
Wendy Walker: It depends on the show because a producer does different things for different shows. But basically the executive producer is responsible for the show. They're responsible for the talent, the content, the staff, the promotion, I mean, everything falls under the executive producer and so I always say, "If everything goes well, the talent gets the credit, and if everything gets screwed up, the producer gets in trouble."
CNN: After 17 years, which Larry King interview was your greatest get?
Walker: Well, it's really hard to say the greatest get because there are so many and when I started writing this book, I looked at every year and what was the highlight of that year and I was freaked out by the ones I had forgotten, but one of the most rewarding things was when we did a telethon for Haiti. At the time, everybody in our country was trying to figure out what we could do, so I thought I'm going to try to see if we can do a telethon and the executives allowed us to do 90 minutes.
We had to turn down so many stars because everyone wanted to participate from Mick Jagger to J-Lo to Snoop Dogg to Ryan Seacrest to Seal, I mean there were like 60 people who agreed to do it and we raised between $9 and $10 million, so that was really one of my favorite moments. We didn't really know how to do a telethon so we had all these phones manned by these famous people and they weren't ringing and I thought, "Oh no, we got all these people here." So I said, "The phones aren't ringing," and the people who do the phones said, "Wendy, you got to give it a few minutes."
So I did and in the first 30 minutes they said, "We've raised $500,000." And I thought, 'Wow, that's so cool, if we can raise $1 million, I'll feel so good.' And then we ended up raising a lot more.
CNN: Is there a story you wish you had covered that you didn't get a chance to?
Walker: Sure. There are people that got away simply because they passed away. So we never got them on the show. I had been pursuing Princess Diana for a really long time and unfortunately she died. And I had been pursuing Jackie Onassis for a really long time and she died. And Michael Jackson died. Those are three people that died that we didn't get; however, we covered their funerals extensively. So we covered them in-depth, but not while they were alive.
CNN: Speaking of Michael Jackson, in your book you discuss how on the day he died, you had one show planned, then the Farrah [Fawcett] news came down and then, of course, Michael Jackson happened. Have you had other days were you changed the show's topics that many times?
Read excerpt on the day Michael Jackson died
Walker: Absolutely! It's an ongoing process. That goes on all day long. We have staff on the East and West coasts and that's really good because I get up at 5:30 a.m. [on the West Coast], but that's 8:30 a.m. on the East Coast, so my staff is already reading about what news happened overnight and when it's 10 a.m. there, it's only 7 a.m. here. So we really monitor the news cycle at 7 a.m. and if we have something booked going into a day, we're watching it all day to see if we need to change it and if there's breaking news, we'll definitely change it right away. We've changed it during the show.
When Haiti happened, we had other people on the show. We were going to just do an update on it, but then it became so big we just had to go over it.
When Walter Cronkite passed away, that happened shortly before our show started. We were on tape that night [Larry had pretaped the show], and I had to get a guest host immediately, so I called John King to see if he could do it and he said, "Of course," and we were booking during the show. And so, we would say, "We've got Katie Couric on the line; we've got Sam Donaldson on the line."
We did that during the night of Michael Jackson and other times, too. Bottom line: When you have a live show, we have to respond to any breaking news that we feel is relevant enough to go with and we are really on call through the end of the show. But we'll also take a look at what's going on in the world and start working on four things and whittle it down. It's a process that goes on all day long but in addition to that, you're also booking ahead. It's a well-oiled machine that goes around and around and just doesn't stop. But it is going to stop for us on December 16.
CNN: What is the hardest part about producing a show with guests from so many walks of life?
Walker: Actually, that's the good part because it keeps it interesting and diverse. Larry has a very eclectic palette. There are some hosts who can't interview all those people like he can and he can do it very well, and I think Piers [Morgan, who is taking over for Larry] is going to do it well, too. Piers will be able to cast a wide net and get a lot of interesting guests.
CNN: Have you ever been faced with a day where it seemed like there wasn't anything worth covering?
Walker: Oh, absolutely. The worst part is when there's nothing going on. Let's say there's a huge breaking news story that the whole world is involved in and it's going on for a week, or a month, and people will say, "You must be so busy," and I'll say, "No, this is really easy and fun," because we have a subject that affects the whole world and we know what we want to do every night.
It's when you don't have one of those big guests and you don't have a breaking news story and you don't have an event to cover and there's nothing going on, it is THE worst. I've been doing the show for 17 years, which is thousands and thousands of shows; Larry's been doing it for 25, I think traditionally that happens a lot in the summer because people are off, so it's kind of a downtime.
CNN: Is Larry the same off the air as he is on?
Walker: Yes and no. He's totally inquisitive off the air, too, but off the air, he's really, really, really funny. When he's on the air, the focal point is never on him, in fact he feels uncomfortable if it is, but when he's off the air, he's funny and charming and it's more about him. He's a really good guy.
CNN: Have you and Larry ever disagreed?
Walker: Sure. We disagree, but it's in a really good way. He'll say, "I don't understand why we're doing this story" and I'll explain the thought process that went into the booking and he'll go, "OK, I get it." I think you're never going to agree all the time ... but we respect each other enough to air our differences and I want to hear it. If he thinks we shouldn't do something, I want to know why, or if he wants to do something, I want to know why.
CNN: You have a great philosophy about not getting hung up on getting credit for your hard work. Can you elaborate on that?
Walker: Everyone wants to feel like they've done a good job, but a lot of the time that's not going to happen in this business because we're so busy and lots of times you only end up hearing when something didn't go right from your boss. But I really do think that people know who does the work.
When I was in Ronald Reagan's Oval Office, I saw he had a saying on his desk that read: "There is no limit to what a man can do or where he can go if he doesn't mind who gets the credit," and I wrote that down and had it on my desk for years. If you worry about who gets the credit, it takes you off point and people do know who does the work. I try to give people as much as I can because this isn't about me, it's about a staff of 40 and Larry.
CNN: At the end of every chapter in your book, you end with a great piece of advice that doesn't apply specifically to TV. What are your favorite pieces of advice?
Walker: One of them is: Think big. I think of Ted Turner. He had this little idea that turned into an institution. There's no reason not to think big. It's like what we do with the show, if we're going to do something about comedy, we'll start with the top comedians and try to get them.
It reminds me of a story when I went to Ellis Island for an event with Mario Cuomo and Larry King. Mario Cuomo got up and said, "Can you imagine if my mother and Larry's mother got off the boat here and my mother says to Larry's mother, 'My son is going to grow up and be the governor of this state,' only to hear Larry's mother say, 'Well, my son is going to grow up and be an international communicator and people are going to know him all around the world.' And I just got goose bumps. Talk about thinking big.
CNN: What are your plans when Larry signs off?
Walker: I'm going to get a massage. (Laughs). We will be doing specials -- four specials per year -- and I'll also be working in program development coming up for shows and looking for talent for CNN.

Click on Wendy's Facebook page to follow Wendy as she goes through her final month as senior executive producer of "Larry King Live."
FOLLOW THIS TOPIC