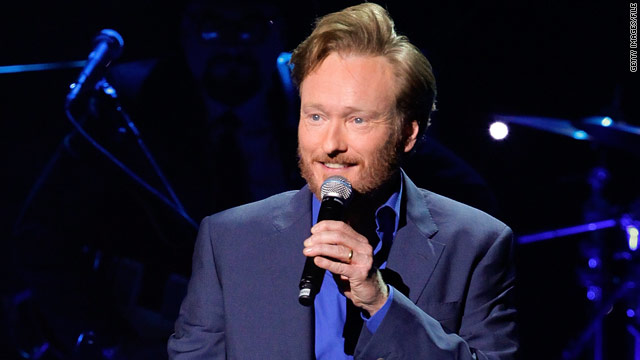 STORY HIGHLIGHTS
The new "Conan" show follows a format familiar to late night viewers
Jokes about getting fired and working on basic cable dominated O'Brien's debut
Conan's new set features an ocean backdrop and a remote-controlled moon
Conan O'Brien's back, and he'll be on "Larry King Live" on December 13 to talk about his new show, Jay, Dave, and the critics. Don't miss the one-on-one interview with Conan on"Larry King Live" at 9 p.m. ET December 13.
Los Angeles, California (CNN) -- Conan O'Brien's return to TV Monday night stuck close to the standard late night talk show format and set, but he could boast one innovation.
"I believe we're the first talk show that has a view of the ocean," O'Brien said. "You can smell the salt air waft in."
O'Brien and announcer-sidekick Andy Richter demonstrated another new backdrop feature -- an over-sized moon they can move across the sky with a remote control.
Exclusive: Watch Conan's opener
Otherwise, the one-hour TBS show has the desk, couch, sidekick, band and a guest promoting a movie familiar to late night audiences for decades.
O'Brien's requisite opening monologue made it clear that "getting fired" jokes are to Conan what divorce jokes were for Johnny Carson.
"People ask me why I named the show 'Conan,'" he said. "I did it so I'd be harder to replace."
Another chief source of humor for the debut show was his move from the big budget NBC "Tonight Show" on a broadcast network to the frugal world of basic cable.
"I'm going to be honest," O'Brien said. "It's not easy doing a late-night show on a channel without a lot of money and that viewers have trouble finding. So that's why I left NBC."
O'Brien parodied his NBC firing in a pre-produced opening segment that included cameos by actor Jon Hamm on the "Mad Men" set and CNN's Larry King as Conan's guardian angel.

Conan O'Brien is back!
O'Brien wasted no time assuring Team CoCo fans that despite the change of channel, they would see his trademark onstage antics and characters, including the infamous X-rated bear.
The first official guest was Arlene Wagner, curator of the Leavenworth Nutcracker Museum. She was chosen online in what O'Brien said was rigged voting.
Wagner strolled across the stage and out the side door into a studio parking lot, slowing down only to give O'Brien a leprechaun nutcracker.
Second guest Seth Rogen stayed for a while to talk about his upcoming "Green Hornet" movie.
"I'm so glad everyone more famous was busy," Rogen said.
iReport: What did you think of Conan's debut?
After interviewing "Glee" star Lea Michele, Conan strapped on a guitar to jam with music guest Jack White and the house band -- "Jimmy Vivino and the Basic Cable Band."
The debut show ended with Conan promoting "Lopez Tonight," which moved to midnight to make way for his 11 p.m. show. Janet Jackson was on with George Lopez Monday night.
Conan O'Brien's Tuesday night guest will be Tom Hanks.