STORY HIGHLIGHTS
Fall TV season offers an interesting mix of sitcoms, drama and reality shows
There are new shows from the creative types behind "Lost" and "The Sopranos"
Special mention goes to three shows returning this fall
(CNN) -- Two things we won't miss from this summer: the heat and the lack of quality television.
The fall season not only means cooler temperatures but also the return of what we hope will be some quality TV. The following are some of the shows (in no particular order) that we are most looking forward to for the new season.
"The Event" (NBC) -- What is it?
That seems to be the big question for this new conspiracy series that features Jason Ritter (son of the late John Ritter) starring as Sean Walker who unwittingly uncovers "the biggest cover-up in U.S. history" while searching for his missing would-be fiancée.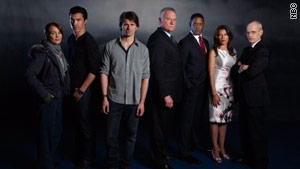 Jason Ritter, center, plays Sean Walker in "The Event."
We like that there is mystery from the get-go, with the network offering scant details on the show, the return of actor Blair Underwood as the newly elected president of the United States, and the sense that the show might offer the types of twists and turns we've been missing since "Lost" went off the air.
"The Event" premieres on September 20.
"Undercovers" (NBC) -- Speaking of "Lost," can you go wrong with a show from J.J. Abrams, that series co-creator?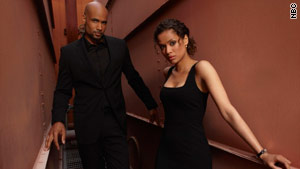 Boris Kodjoe and Gugu Mbatha-Raw star in "Undercovers."
Audiences will find out this season with his new show "Undercovers" featuring the very attractive Boris Kodjoe. Lots of buzz that the series is much like an African-American version of "Mr. & Mrs. Smith" featuring Kodjoe and the lovely Gugu Mbatha-Raw as a married couple reactivated by the CIA to get back into the spying game. We anticipate plenty of action and drama. And did we mention that Kodjoe is hot?
"Undercovers" premieres on September 22.
"$#*! My Dad Says" (CBS) -- Fingers crossed that this comedy is even a 10th as funny as the Twitter account on which it is based.
Building a series around a cranky dad who has a tumultuous relationship with his kids can be iffy, but this one has the benefit of the father being portrayed by William Shatner. Some parents' and religious groups already are up in arms about the title, but we think it will be a bigger offense if the show is a stinker.
Plus we can't wait to see how the entertainment shows deal with reporting on a series whose actual name you can't really say on TV. Good times.
"$#*! My Dad Says" premieres on September 23.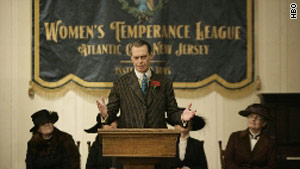 Steve Buscemi stars in HBO's "Boardwalk Empire."
"Boardwalk Empire" (HBO) -- Five words for you: Martin Scorsese comes to television.
The iconic film director teams with Terence Winter, a former writer for "The Sopranos," to spin some yarns about Atlantic City just before Prohibition. We'd probably be stoked for it even if the cast didn't include the always creepily fantastic Steve Buscemi and Michael K. Williams, whom we haven't seen nearly enough of since his fantastic turn as Omar on "The Wire."
And honestly, don't brilliant things seem to happen whenever Scorsese meets a gangster story?
"Boardwalk Empire" premieres on September 19.
(HBO is owned by Time Warner, also the parent company of CNN.)

Video: Meet the 'Sister Wives'
"Sister Wives" (TLC) -- A real life "Big Love"? Yes, please!
The series follows Kody Brown and his three "sister wives" -- Meri, Janelle and Christine -- who live in Utah in a house made up of apartments so that everyone and their children have their own space.
Watching Kody negotiate spending time with his trio of brides as well as their multitude of children is sure to be fascinating as they rip the covers off polygamy. The family is not breaking any laws since only one of the marriages is legal and the rest are "commitment marriages," and right off the bat there's a big announcement that will affect the family's future -- you guessed it, a fourth sister wife.
Full disclosure, we've seen the first three episodes, and already we are hooked.
"Sister Wives" premieres on September 26.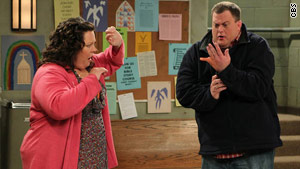 Melissa McCarthy and Billy Gardell fall in love in "Mike & Molly."
"Mike & Molly" (CBS) -- This show has the possibility to be either really exploitative or really funny.
Given that it's being brought to us by Chuck Lorre, who already has struck gold with "Two and a Half Men" and "The Big Bang Theory," we are leaning toward the latter.
The plot, an overweight pair -- played by the completely, until now, underutilized Melissa McCarthy and Billy Gardell -- meets and falls in love. Expect plenty of jokes about weight and food with a dash of romance thrown in to the mix. What Lorre did for geeks with "BBT," he could do for plus-size folks with "M&M."
"Mike & Molly" premieres on September 20.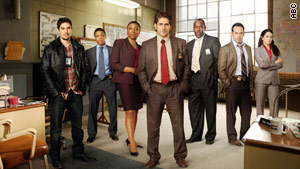 Michael Imperioli, center, heads the cast of "Detroit 1-8-7."
"Detroit 1-8-7" (ABC) -- What would fall TV be without a cop drama?
Michael Imperioli of "The Sopranos" switches over to the good guys in this drama that follows a Detroit-based homicide unit. The switch here is that the show is filmed in a documentary style meant to give a behind-the-scenes look at the lives of the officers.
It's not the first time that Imperioli has taken up the shield. He played an officer in the ill-fated "Life on Mars," which didn't catch on nearly as much as the British version of that series.
Here's wishing him better luck with this show.
"Detroit 1-8-7" premieres on September 21.
Honorable mention goes to three returning shows: NBC's "30 Rock" because we can't wait to see what they do with the live episode of that sitcom, Fox's "Glee" because everyone and their mother seems poised to appear either on the show or have their music featured as a theme, and ABC's "Modern Family" because it is hilarious.
FOLLOW THIS TOPIC